The "Silence Breakers" is the name given to those women who started a global conversation about sexual harassment and assault. They have been described on the cover of the magazine as "voices that launched a movement".
The Time cover shows actor Ashley Judd, former Uber software engineer Susan Fowler, California lobbyist Adama Iwu and strawberry picker Isabel Pascual along with Taylor Swift.
In 2013, Swift was groped by David Mueller, a radio DJ, who was fired after she complained to the station manager. Two years later, he filed a defamation suit against the Badblood singer alleging she had ruined his career with false allegations.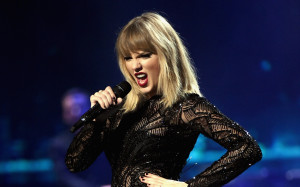 Swift successfully faced down the lawsuit. But while Mueller had wanted up to $3m (£2.2m) in damages, Swift only wanted a symbolic $1. She says she is still waiting for it.
In the interview with Time, the 27-year-old megastar said: "I figured that if he would be brazen enough to assault me under these risky circumstances and high stakes, imagine what he might do to a vulnerable, young artist if given the chance.
"I think that this moment is important for awareness, for how parents are talking to their children, and how victims are processing their trauma, whether it be new or old.
"The brave women and men who have come forward this year have all moved the needle in terms of letting people know that this abuse of power shouldn't be tolerated.
"Going to court to confront this type of behaviour is a lonely and draining experience, even when you win, even when you have the financial ability to defend yourself," she continued.
Swift proved to be the most controversial choice for Time Person Of The Year title this year.
For some she deserved the recognition for standing up to her assaulter, and for others she was under-qualified to be in the ranks of her co-winners.
Here's how Twitter reacted to Swift being named Time Person Of The Year:
The naysayers:
The defenders: