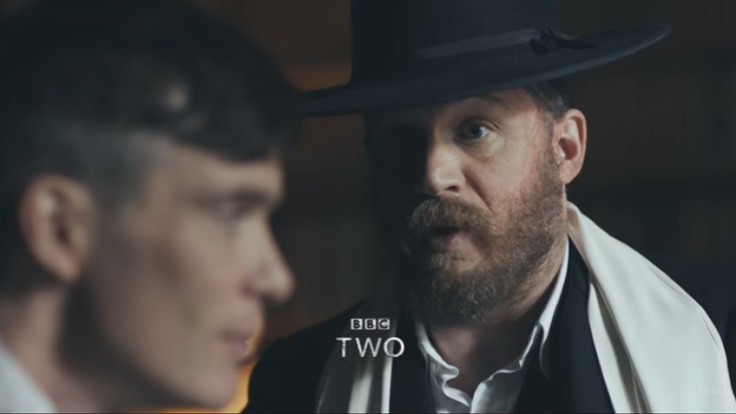 Tom Hardy made a dazzling return to Peaky Blinders last night (6 December) and fans of the show went into overdrive.
As the Camden-based Cockney-Jewish gangster Alfie Solomons, Hardy was at his swaggering best. He heads up to Small Heath in Birmingham to help Tommy Shelby (Cillian Murphy) in his fight against Luca Changrett (Adrien Brody).
"F****** hell it smells of pig round here don't it? And definitely not kosher," was how Hardy made his grand entrance.
"Come to Small Heath, you will go to hell, just for f****** breathing," he added in typical Alfie Solomons style.
Instead of ringing the doorbell, Hardy honks his car horn incessantly to let everyone know he is outside. When Tommy steps out he says: "Morning Alfie,"
To which Hardy's character replies: "Yeah it is, so how come everyone's in f****** bed?"
Although he only had a brief on-screen appearance, Hardy made sure that his presence was felt. The fourth series of the BBC2 crime drama has been hugely popular and his cameo was more than a welcome addition.
One fan said: "#PeakyBlinders was fantastic. Tom Hardy stole every scene that he was in like normal and that scene with him, Cillian Murphy and Aidan Gillen in it was awesome. Can't wait for next week's!"
Another Tweeted: "Aiden Gillan, Tom Hardy, Cillian Murphy, Sam Neil, Adrien Brody, Helen McCroroy... the list goes on @ThePeakyBlinder is one of the finest shows from our shores @BBC @BBCAMERICA #Peakyblinders."
A third wrote: "Is it just me that thinks that tom hardy's character alfie solomons needs his own show to go along side peaky blinders @BBCTwo @ThePeakyBlinder"
While he only makes regular cameos on Peaky Blinders, Hardy does have standalone crime drama, Taboo, on BBC1. That series is written by Steven Knight, who is also the screenwriter on Peaky Blinders.
Here are some of the best reactions on Twitter to last night's episode of Peaky Blinders: