All but two of the biggest Twitter moments of 2013 were sporting events, with football and Andy Murray's Wimbledon victory dominating.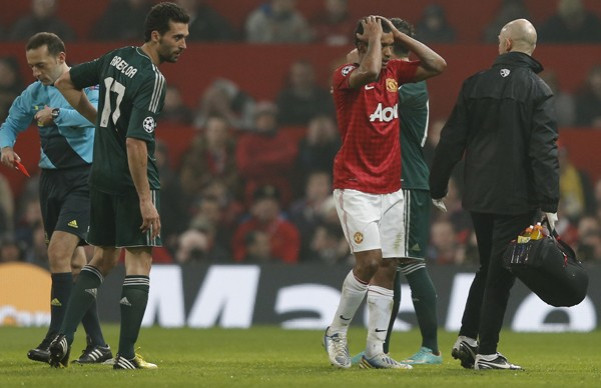 Just as YouTube and Yahoo have done already this year, Twitter has held up a mirror to our online lives in 2013 and revealed the biggest trends during the last 12 months.
In the UK eight of the top 10 moments on Twitter revolved around sport, with new year celebrations and Mumford & Sons' closing set at the Glastonbury music festival the notable exceptions.
The rest involved Andy Murray's victory at Wimbledon and various football matches involving Manchester United, England, Wigan, Barcelona, Real Madrid and eventual Champions League winners Bayern Munich.
Here are the UK's top 5 Twitter moments of 2013:
March 5th: Manchester United are beaten 2-1 by Real Madrid, knocking them out of the Champions League.
January 1st: Revellers celebrate as they see in the new year.
July 13th: Andy Murray wins Wimbledon, making him the first male British singles champion since Fred Perry in 1936.
June 2nd: England draw 2-2 with Brazil in a friendly in a match that marked the official reopening of the Maracana stadium ahead of the Brazil 2014 World Cup.
April 30th: Real Madrid beat Borussia Dortmund (2-0) in the Champions League semi-final second leg, but are knocked out of the tournament on aggregate.
Most retweeted
Looking outside the UK, Twitter has also revealed the most retweeted message of the year came from Glee star Lea Michele (@msleamichele) with this message which was retweeted over 408,000 times, thanking fans for their support following the death of her co-star and partner Cory Monteith (@CoryMonteith):
Thank you all for helping me through this time with your enormous love & support. Cory will forever be in my heart. pic.twitter.com/XVlZnh9vOc
— Lea Michele (@msleamichele) July 29, 2013
The second most retweeted message followed the tragic death of actor Paul Walker last month, with this message from his official Twitter account being retweeted 400,000 times.
It's with a heavy heart that we must confirm Paul Walker passed away today in a tragic car accident...MORE: http://t.co/9hDuJMH99M - #TeamPW — Paul Walker (@RealPaulWalker) December 1, 2013
The top five most retweeted list is completed by three tweets from members of boyband One Direction, including this one from Zayn Malik showing bandmate Harry Styles asleep:
Harry wake up !! :D pic.twitter.com/cuhD5bC5 — zaynmalik1D (@zaynmalik) January 10, 2013
Taking all five members into account as well their official One Direction account, the group has 29 million followers on the micro-blogging site.
Trending
Twitter has also compiled lists of topics which trended in the UK during 2013 - which show what trended most frequently, rather than representing the volume of conversation about a topic or the most talked-about topics.
Popular news topics in the UK included the death of Irish poet Seamus Heaney, the UK storm and of course the Royal Baby. In terms of international news, people in the UK were talking about Syria, Turkey, and the Russian Meteor which struck in February of this year.