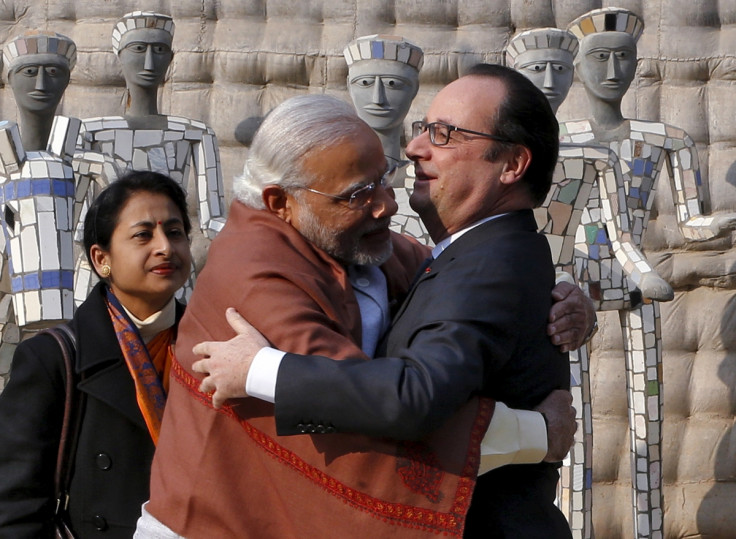 Effervescent Indian Twitter users had a field day after a picture of Narendra Modi awkwardly holding Francois Hollande emerged. The Indian prime minister and French president were visiting the Rock Garden in the northern city of Chandigarh, during the latter's three-day tour of the Asian country.
Modi, notoriously known for carefully guarding his public appearances, was pictured in the garden holding Hollande from behind, in a somewhat-discomfited pose. The bearded leader held the Frenchman by his waist and people compared the pose to the iconic scene between Kate Winslet and Leonardo DiCaprio in the film Titanic, on social media.
At the Rock Garden, the French president hailed Modi "for his diplomacy reflecting both a sense of proportion and a strong determination. He recently took important steps to engage in a dialogue with the political leadership in Pakistan".
The two countries also signed the Rafael aircraft deal worth Rs600bn (£6.2bn, $8.8bn) on 25 January. The exact finances of the longstanding Indo-France agreement will be decided shortly, however, a memorandum has been inked, both leaders confirmed.
"We are very happy that we have formed an agreement for purchase of 36 Rafale aircrafts with France," said Modi. The French president will also be the chief guest of the Republic Day celebrations on 26 January in New Delhi.
Nonetheless, below are some tweets quipping at Modi's picture.