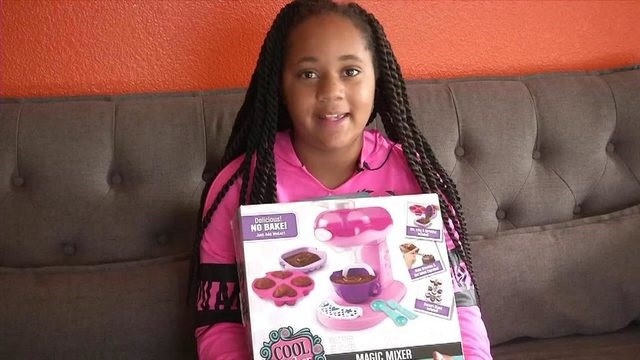 A child's Christmas was ruined when she opened a new baking set to find two bags of marijuana inside.
9-year-old Aramis Jenkins excitedly unwrapped the Magic Mixer, bought for her by her aunt Tyra Hills from a Walmart store in California. But it wasn't the Christmas surprise she had been hoping for.
"I was so excited! This was my favorite gift cause I love cooking," said Aramis. But, to the family's horror there were two bags of pot at the bottom of the box.
"Like I didn't believe it at first and then I looked at it closely and it was really two bags of marijuana," Tyra Hills said. "So I was like shocked and I didn't know what to do at that point so I called my mom over."
"I was shocked first, I was like 'oh my gosh' and then I was angry to find that at the bottom and see her disappointed face? I was angry," said Aramis' grandma Tammie Hills.
Her outraged grandmother Tammie Hills, decided to take action and took the illegal substance to the police, before returning to Walmart to report the matter to staff. She said she was shocked and disappointed by their nonchalant response as they simply offered her a refund.
"I told them no, that's not the point, we're not down here to get our money back or to get a new Magic Mixer, my thing is I want to talk to the corporate office first and see what they would do and then get them pulled off the shelf," she said.
"[Aramis] didn't know what to do, she was shocked," Tammie Hills said. "Our family, we don't, we don't do drugs, we don't do anything."
According to WWMT.com, in a statement a spokesperson for Walmart told new station KRCR: "We take the situation very seriously and want our customers to have a safe experience every time they're in our stores.
"If the alleged incident is proven true, we will work closely with law enforcement throughout their investigation and must refer all further questions to local police."