Two Americans have been found dead after their boat flipped over in alligator-infested waters. They were among a group of four men reported to be travelling in an airboat along St. Johns River in Cocoa, Florida.
State wildlife officials, the local sheriff's office and concerned members of the public spent much of Sunday night (12 November) searching for the missing men after they capsized at around 5pm local time in the River Lakes Conservation Area.
Their search came to an end with the result they feared most: the missing men were dead. Their two fellow boaters had made it to the shore unharmed after the accident.
"I knew from the get-go that something was wrong. I'm an experienced airboater. The back half of the boat was sitting kind of low before everything happened," said Timothy Young, 31.
"The guy was driving kind of fast and he turned in his own wake ... he ended up flipping his airboat. It was chaos... everybody was worried about them," he added.
The names of the dead men and their friends who made it to safety have not yet been released by authorities, who have also not confirmed whether the men were wearing life jackets.
Florida Wildlife Commission (FWC) figures show that there were 31 recorded accidents involving airboats, flat-bottomed vessels powered by fans at the rear, in Florida in 2016.
"It's definitely not the turnout we like or expect," Chad Weber of the FWC told Florida Today.
"Boating, even though it's a recreation activity, can be dangerous. Just take precautions. You can't plan for every accident, but life jackets save lives, so wear a life jacket."
The exact cause of the men's deaths is not entirely clear although Wever said they were not badly injured. There have only been 23 recorded unprovoked fatalities at the jaws of alligators since 1948 according to the FWC.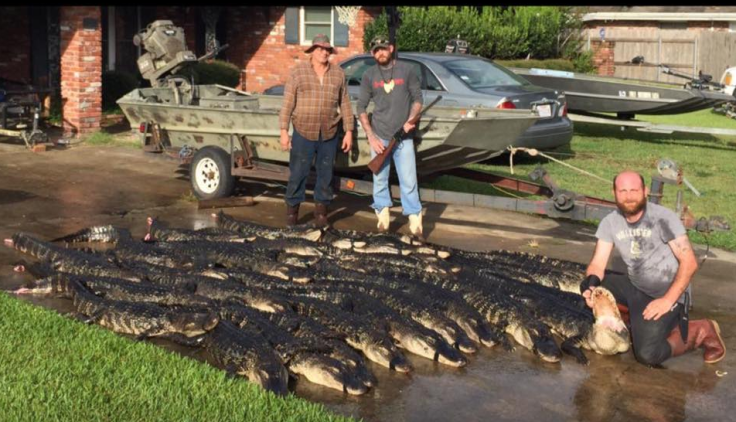 There are 1.3m wild alligators in Florida, making it second only to Louisiana, which has 2m of the prehistoric reptiles roaming its wetlands.
Alligator hunting season has recently come to a close. IBTimes UK got an exclusive taste of the action with Charlie LeDoux, the Louisiana Alligator Man.
The stretch of river where the men died is popular with tourists and locals, many of whom make base at the Lone Cabbage Fish Camp at the water's edge. The state does not require boaters to have a licence.