Officers from North Yorkshire recently discovered seven bin bags packed full of cannabis on the side of the road, then took to social media to see if anyone wanted to claim them. The huge stash of the plant, which remains illegal in the UK, was found in the early hours of Sunday (12 November).
Council workers, presumably road maintenance staff, were the first to set eyes on the cannabis resting beside the A59 near Harrogate. They immediately called police, who arrived at the scene and confiscated the weed.
Cannabis is a class B drug in the UK and dealers can be jailed for 14 years. But that did not stop PC Amanda Hanusch-Moore launching an appeal to find the owner.
"Lost something?" she tweeted, alongside a picture of the seven bags piled up in the back of a police van.
"This was found in black bin bags last night on the A59 near Blubberhouses. If it's yours come and speak to us at Harrogate Police station, we're more than happy to discuss!"
So far no one has stepped forward to claim ownership, although many internet users have chipped in to complain about UK drug laws.
"Wow you must be so proud of yourselves, you took a plant off the street but left a million murderers out there and you want recognition?" replied Robin Davies on Twitter.
Scott Lackey said: "It's so funny because this highly effective and non addictive medicine is still considered illegal under your draconian laws!"
PC Hanusch-Moore hit back, saying: "Well, Scott your [sic] absolutely right it is illegal and [as] for non addictive, well that's where we disagree. And until a non addictive medicinal form is approved by health regulators then we'll continue to take it off the streets."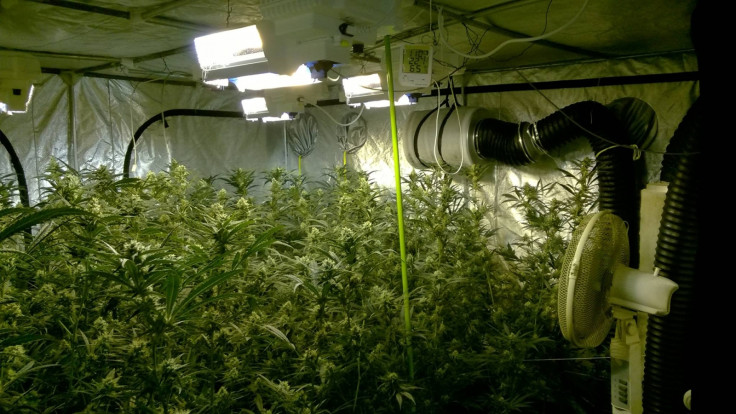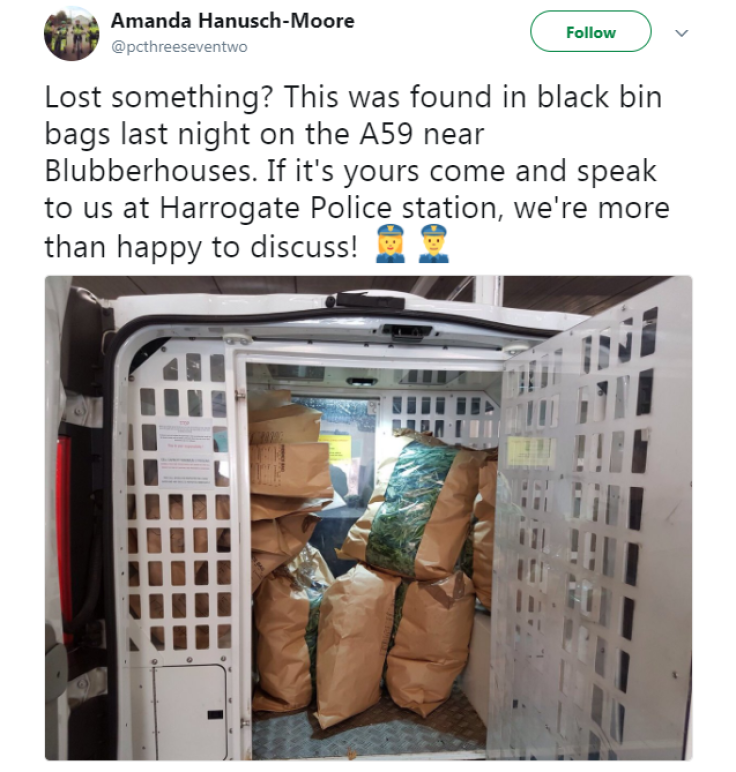 An increasing number of US states have legalised cannabis for medicinal use in recent years – some have even started to permit its sale to recreational smokers. In the UK, the drug remains outlawed, although former government drugs chief Professor David Nutt has waded into the current debate.
Writing for the Mail on Sunday, he said: "The American Academy of Science last year published a comprehensive report revealing the medicinal value of cannabis across a range of diseases including cancer and Aids, PTSD and addictions, cardiovascular and gut diseases.
"At least 17 countries other than America have medical cannabis at present, including Holland and Spain. For the UK, once a world-leading country in healthcare, to deny the value of medical cannabis is a sad reflection on how much political polemic has distorted rational thinking."