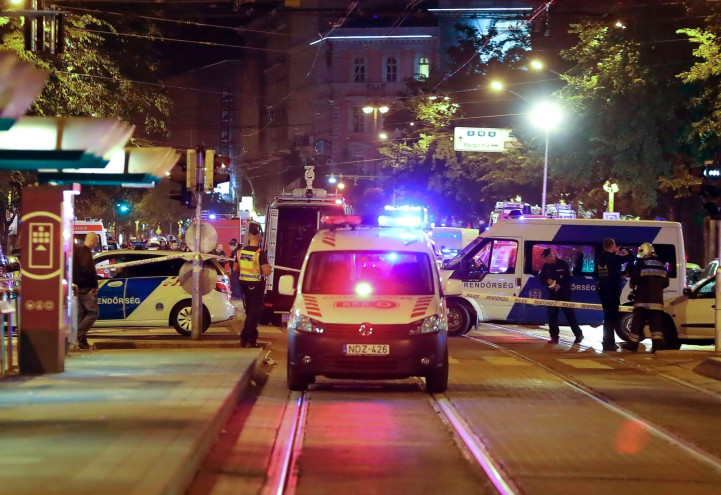 Two Hungarian police officers were seriously injured after a home-made bomb packed with shrapnel exploded in Central Budapest on Saturday (24 September), Hungary police said.
National Police Chief Karoly Papp said in a news conference that a massive manhunt has been launched for the culprit and an attempted murder investigation has commenced. He said, "Our police officers were the targets of the attack. I consider it as an attack on the whole Hungarian police force – it was aimed at executing them." He added that the officers were on foot patrol in the capital when the bomb went off. The blast took place sometime after 10.30pm local time.
According to reports, both the wounded officers had to undergo surgery. While the female officer was still in a serious condition on Sunday, the male officer is said to be recuperating.
Authorities identified the suspect as a man aged between 20 and 25 years, was wearing a light-coloured fishing hat, blue jeans and white trainers. Papp also said, "He will be found, and his motive discovered." He announced a reward of 10m Forints (€32,000, £27,682) for any information that could lead to the capture of the suspect.
Local media channel M1 reported that CCTV footage showed a bag being left at the scene of the crime by an unidentified man prior to the blast. Some eyewitnesses had initially thought that the blast was caused due to a gas explosion.
An American tourist told M1 channel, "There was a big explosion, I saw lots of smoke, and the window of the hostel I was staying in nearby was smashed." Forensic personnel conducted investigations in the area through Sunday and officers carried out door-to-door enquiries.
On Monday, the country's national security parliamentary committee will meet to discuss the blast, the chairperson of the committee told MTI news agency.