A new mother who had recently returned from maternity leave was one of the two police officers shot dead in Palm Springs, California, while responding to a family dispute.
The slain officers were identified as Jose "Gil" Gilbert Vega and Lesley Zerebny, who are thought to have been fatally wounded when a man they were talking to in connection with the family argument suddenly pulled out a weapon and opened fire, also wounding a third officer.
It is believed the officers were at the door of a family home when the incident occurred, with neighbours describing the sound of more than 10 gunshots and said fire engines, a SWAT truck and patrol cars descended on the street after the incident.
Palm Springs police chief Bryan Reyes said at a news conference reported by The Desert Sun: "It was a simple family disturbance and he elected to open fire on the guardians of the city.
"They were out there every day with boots on the ground for our community," he added. "They gave it all for you."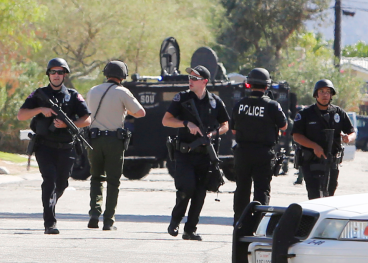 Palm Springs Mayor Rob Moon visited the hospital where the officers were taken following the shooting and told the paper: "It's probably the worst day of my life."
The police chief said that Zerebny had a four-month old daughter and had just come off maternity leave, while Vega was a father of eight who had been with the police force for 35 years, the Associated Press reported.
The officer who was injured in the 8 October attack has not yet been named, but it is believed the police chief will release additional information as the case is investigated.
Residents in the Palm Springs neighbourhood where the shooting took place were told to stay in their homes and keep their doors locked as authorities worked to apprehend the shooter in what was described as a stand-off situation.
People have always been asked not to share pictures or details about police on social media until the shooter has been caught.