Two British terrorist sympathisers have been convicted of using Syria-bound aid-convoys to funnel cash to al-Qaeda linked extremists. The charity convoys heading to the war-zone unwittingly became vehicles used to transfer money for "sniper rifles" used by terrorists, the Old Bailey heard.
One of those aid missions, led by Al-Fatiha Global, organised the convoy Eccles taxi driver Alan Henning joined when he was snatched and murdered by Islamic State (Isis) jihadists after he crossed the border from Turkey in December 2013.
Syed Hoque, 37, of Stoke-on-Trent, and Mashoud Miah, 27, of Mile End, east London, were both convicted of funding terrorism on Friday 23 December. Hoque was convicted of two charges of funding terrorism, whilst Miah was convicted on one count by majority following a trial.
A third defendant, Huddersfield charity worker Pervez Rafiq, 46, who had made a personal plea to Isis warlord Abu Bakr al-Baghdadi for the life of Henning, was cleared of any involvement along with Mohammed Hussain, 30, of east London, was also found not guilty.
This is the first court verdict indicating that some aid convoys were used illicitly to send money to the war-zone after 33 people from four charities were arrested in November 2014. One man was Abdul Mahid, a former member of Anjem Choudary's now-banned organisation al-Muhajiroun.
Hoque and Miah were remanded in custody with sentencing due to take place on 13 January.
Aid convoys dried up to the war-torn country amid government pressure following Henning's abduction and multiple reports that British jihadists had used them as cover.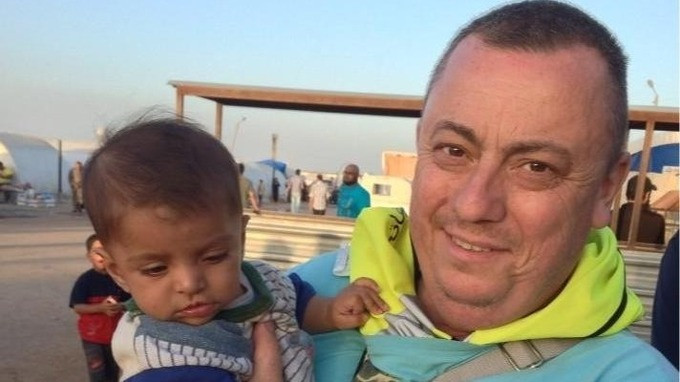 The court heard how Hoque had sent money to his nephew, Mohammed Choudhury, who had left for Syria in early 2013. Choudhury had joined the al-Nusra Front, or Jahbat al-Nusra, an extremist organisation linked to al-Qaeda that is second only to Isis in its membership in Syria.
Choudhury was seen by police asking Hoque for cash to buy a specialist Dragunov sniper rifle or an AK47, on social media with Hoque, a former probation officer, agreeing to send £3,000, which Choudary revived in July 2013.
In another convoy he sent £1,500 with the help of aid worker Miah who, police said, worked as a fixer travelling to and from Syria. This convoy was the same that Henning was travelling with.
Choudhury latterly told Hoque, of his desire to kill disbelievers with Hoque relying according to the BBC: "No mutilating, just beheading."
Hoque said he did provide the cash, but it was solely so his nephew could defend himself and he did not believe he was breaking the law by sending him the money.