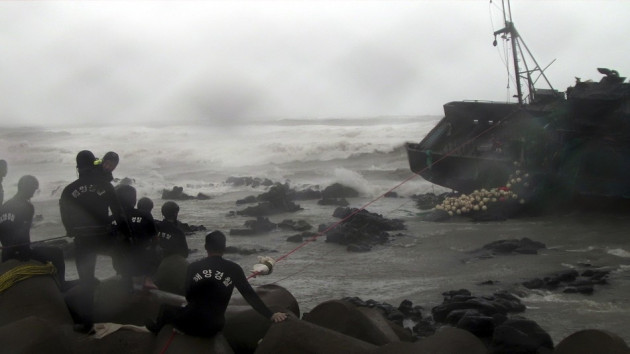 At least eight people have died and 10 are missing after a 170km/h (106 mph) typhoon smashed into South Korea's southern coast and capsized two fishing vessels.
Powerful waves off Jeju island in the East China Sea rammed two Chinese boats with 33 crew on board. At least five died, the coast guard said.
Twelve crew were saved and six others managed to swim ashore. Ten crewmen were still missing.
In Gwangju, about 300km south of Seoul, the storm tore down a church bell tower, crushing an 89-year-old woman to death, police said.
In other two incidents a man was crushed by a shipping container and a woman fell off a roof after losing her balance in the strong winds.
Heavy rain knocked out power to nearly 330,000 households nationwide. Hundreds of flights and ferry services were cancelled and a major joint military exercise between US and South Korean forces was called off.
Bolaven was heading north towards Seoul and storm warnings have been issued to residents.
Across the border, North Korea is still recovering from massive flooding that killed 170 people and wrecked thousands of homes in July.
Many North Koreans are still living in tents and suffer from lack of food and access to water and basic facilities, said the UN.
Bolaven was the strongest typhoon to hit the Korean peninsula in a decade.
In its passage over Japan it injured four people and cut power to 75,000 households in Okinawa.