Millions of people in the Philippines are fleeing their homes to makeshift arrangements and schools as Typhoon Hagupit has resumed its status as a super-typhoon threatening to bear down on the island.
The powerful typhoon, locally known as Ruby, is set to wreak havoc in the eastern Visayas shortly and then rip through central Philippines. The storm was downgraded a notch but quickly regained super-typhoon status.
Nearly one-third of the country's population – about 32 million – are estimated to be affected by the tropical cyclone. Hagupit is the most powerful storm that will hit the Philippines this year as the country is still reeling under the devastation caused by Super Typhoon Haiyan a year ago.
"Typhoon Hagupit is triggering one of the largest evacuations we have ever seen in peacetime," said Denis McClean, spokesperson for the United Nations Office for Disaster Risk Reduction.
The storm is expected to make landfall on Saturday night or on Sunday local time. By the time Hagupit makes landfall, authorities say about 500,000 families or nearly 2.5 million people will have been evacuated.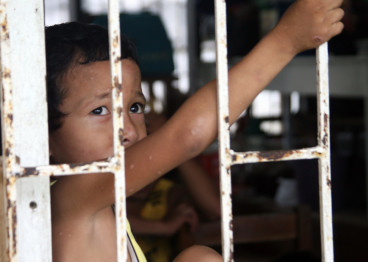 "We are not lowering our alert levels even if the typhoon has weakened. We will continue our instructions and disseminations in different regions until the state weather bureau does not advise us so. Preparations will continue at all levels," said Alexander Pama, administrator at the Office of Civil Defence.
Last year's typhoon, whose scars are visible in the affected areas, has made the people more cautious forcing them to not take any risk, say authorities.
"In [Eastern Visayas], the people themselves are preparing and do not think twice about leaving their houses. They know what to do," said Pama.
Haiyan, known as Yolanda in the Philippines, devastated the country leaving 7,000 people either missing or dead. It was the strongest-ever typhoon recorded over land.