The weakened tropical storm Typhoon Hagupit will pass the Philippines capital Manila after battering the eastern region causing at least eight deaths.
Though Hagupit has been officially downgraded to the status of a tropical storm, forecasters expect strong winds accompanied by heavy rain.
The storm, locally referred to as Ruby, is expected to race close to Metro Manila between 18:00 and 20:00 local time.
In the latest advisory issued by the Philippines weather agency Pagasa, experts said the storm is packing sustained winds up to 105kmph and gusts up to 135kmph. It is expected to make its third landfall in Northern Mindoro bringing moderate-to-heavy rainfall within a 450km radius.
Pagasa's forecaster Jori Loiz said people should remain vigilant despite the decreased intensity of the cyclone.
"It will be associated with strong winds, storm surge, and moderate-to-heavy rainfall," the agency said in its warning.
Storm surges as high as three metres are expected in some areas.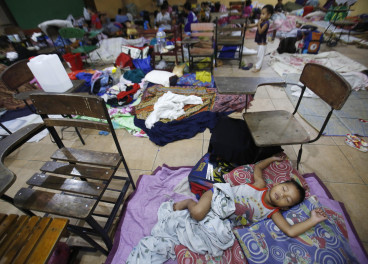 During the weekend, at least eight people including a toddler were killed in Visayas in typhoon-related incidents.
However, the storm did not cause devastation as many feared and was not as powerful as Typhoon Haiyan, which left more than 7,000 either dead or missing last year.
"There were no bodies scattered on the road, no big mounds of debris. Thanks to God this typhoon wasn't as violent," Rhea Estuna told the Associated Press by phone from Tacloban, the city which experienced the maximum impact of Haiyan last year.
Authorities are assessing the damage caused to the makeshift arrangements where more than a million people have sought shelter across the disaster-weary southeast Asian nation.