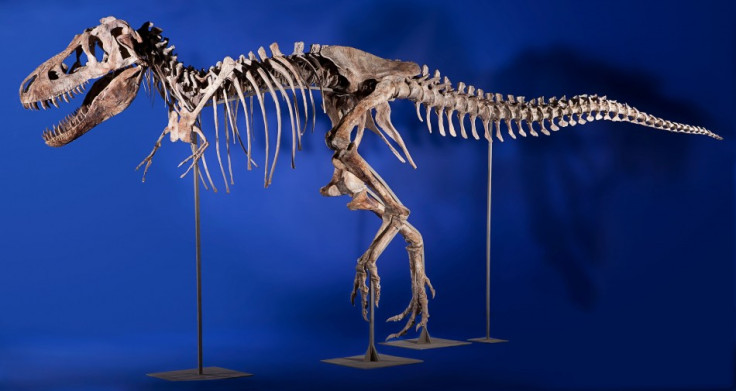 American authorities have seized the skeleton of a Tyrannosaurus Bataar - a dinosaur from the Cretaceous period - following the verdict of a lawsuit that claimed the skeleton belonged to the Mongolian state.
The prehistoric fossil was held by Cadogan Tate Fine Art Property, an art storage company, after it fetched about $1.1mn (approximately £700,000) at a US auction in May.
The Mongolian government filed a complaint with a Texas court on Monday claiming the skeleton of the Tyrannosaurus Bataar, which lived about 70 million years ago primarily in Mongolia in Central Asia, was looted from the country by illegal consignors.
The fossil piece, which had been estimated to fetch between $950,000 (approximately £600,000) and $1,500,000, (approximately £950,000) was sold 20 May at an auction conducted by The Heritage Auctions, the world's third largest auction house, in New York. However, confirmation of the auction result and sale was dependent on the resolution of the lawsuit,
A spokesperson of the auction house confirmed the seizure of the dinosaur skeleton on Saturday, AFP reported. US authorities plan to return the skeleton to Mongolian authorities.
"We are one step closer to bringing this rare tyrannosaurus bataar skeleton back home to the people of Mongolia. Today we send a message to looters all over the world: We will not turn a blind eye to the marketplace of looted fossils," Mongolian President Tsakhia Elbegdorj told AFP.
The Tyrannosaurus Bataar skeleton is eight feet tall and 24 feet long and is described as "an incredible, complete skeleton, painstakingly excavated and prepared, and mounted in a dramatic, forward-leaning running pose" by the auction house.
"This is a once in a generation dinosaur and collectors definitely responded to both its rarity and its fierce beauty. A dino like this is rare to come across in any condition, let alone one as pristine as this," David Herskowitz, Director of Natural History at Heritage Auctions, said in a statement.