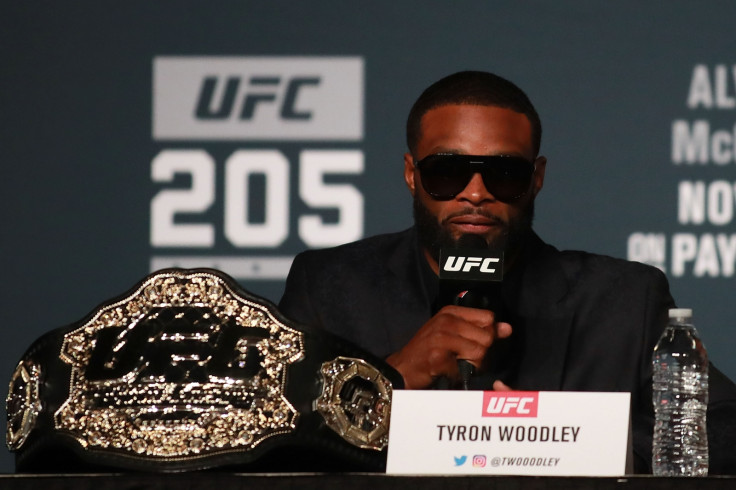 Tyron Woodley says he would not begrudge Conor McGregor leaving UFC to chase a multi-million dollar showdown with Floyd Mayweather Jnr – but still hopes to meet the Irish fighter at UFC 209.
McGregor and Mayweather have both teased fight fans over the last year with the tantalising prospect of a fight that would surely become the richest in combat sport history. The revelation that the UFC's biggest draw has now been granted a boxing license permitting him to box in the state of California has further fuelled the hype.
McGregor could have unfinished business in the Octagon, however. Before his history-making win over Eddie Alvarez at UFC 205, the 28-year-old appeared to start laying the groundwork for a fight with Woodley.
The pair were involved in a hostile exchange backstage the night before the event in Madison Square Garden with the reigning welterweight champion later inviting the Dubliner to step up to the 170lbs mark and challenge for his title.
Speaking to TMZ, 34-year-old Woodley insisted his priority is still getting The Notorious in the Octagon, but admitted he would understand his decision to chase Mayweather.
"It looks like he's going to get a boxing licence in a few different states," Woodley said. "I don't know if it's something he is doing to show the UFC that he's the boss because he just relinquished his featherweight title, I don't think he won two belts just to give one up. I know he has an MMA licence so if he wants to scrap it out with me at UFC 209 in Brooklyn that's all I'm focusing on, I'm trying to make that happen and put it on the map.
"For fans that think this (McGregor getting a boxing license) is a bluff, it really isn't. If Conor decided he wants to walk in and take this $100m fight with Floyd Mayweather, no one, including myself could knock him for doing that."
Woodley also warns however that should the Mayweather-McGregor fight be made, it could be the last we see of him in the UFC.
"I respect Conor for what he's done for the sport and the moves he's trying to make for himself but I do think this is him showing the UFC and the fans he's serious about the potential match with Mayweather."
He continued: "But I guess you could say he (Conor) needs Floyd to get that kind of money. I just can't see Conor fighting in MMA again if he actually makes that fight with Floyd."
McGregor briefly held both the featherweight and lightweight UFC crowns after dismantling Alvarez inside three rounds at UFC 205 but earlier this week, he was stripped of the former, a decision that has exasperated the fighter's camp.