Tyson Fury has been filmed launching into a disturbing rant complaining about "Zionists" and "Jewish people who own all the banks". The world heavyweight boxing champion made a series of derogatory comments during an interview published on YouTube on Monday (4 May).
The hour-long interview, which appears to have been filmed by the boxer's uncle, Peter Fury, also saw him launch into a tirade about rape, bestiality and paedophilia.
Fury, who is preparing for his match against ex-champ Wladimir Klitschko, said: "The world has gone mad. Everyone just do what you can, listen to the government follow everybody like sheep, be brainwashed by all the Zionist, Jewish people who own all the banks, all the papers all the TV stations. Be brainwashed by them all."
The UK's Campaign Against Antisemitism (CAA) says it has submitted a complaint over the comments to the British Boxing Board of Control. They have asked he be barred from boxing.
Jonathan Sacerdoti, CAA director of communications, said: "Tyson Fury's statements about Jewish people are offensive and racist. There should be no place for anti-Semitism in sport.
"Just as anti-Semitism is being stamped out from football, the same should apply to boxing. He should be barred from boxing and referred to the British Boxing Board of Control."
Fury's tirade also saw him claim women go out "just to get laid", adding: "They're taking their overnight bags because they're gonna pull somebody and get at it. Filth. Pure filth." Complaining the world was "lowering the bar" on its moral values, he went on to say he didn't mind being criticised for holding "draconian" views.
"We live in ancient times where we don't like women to be whores, opening legs to every Tom, Dick and Harry," he said. "We don't shag men. We don't shag kids. So, if that's draconian then yeah, I suppose I like being a draconian. They should call me Dracula Fury shouldn't they."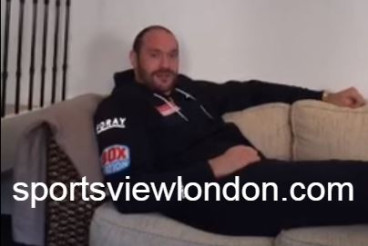 Turning his attention to bestiality, he said it may soon become legal. "It is going to happen though isn't it? Whatever you can think of that's bad, will be made legal, because that's what the devil wants.
"So if you want to shag your animals. [...] it will be made legal. It's okay, it's normal. In a world that's changing its morals daily and lowering the bar of daily morals then it is okay to do all this sort of stuff."
This is not the first time Fury has caused offence for his outbursts. He has already been called up before the the British Boxing Board of Control for his behaviour.

The British heavyweight prompted calls for the BBC to retract his nomination for Sports Personality of the Year after he compared homosexuality to paedophilia. He said both should be made illegal, along with abortion.
Fury told the Mail on Sunday in the build-up to his November world heavyweight title victory over Wladimir Klitschko: "There are only three things that need to be accomplished before the devil comes home.
"One of them is homosexuality being legal in countries, one of them is abortion and the other is paedophilia. Who would have thought in the 50s and 60s that those first two would be legalised?"
Fury later denied he is a homophobic.