Tyson Fury capable of shedding extra weight ahead of rematch with Klitschko, trainer claims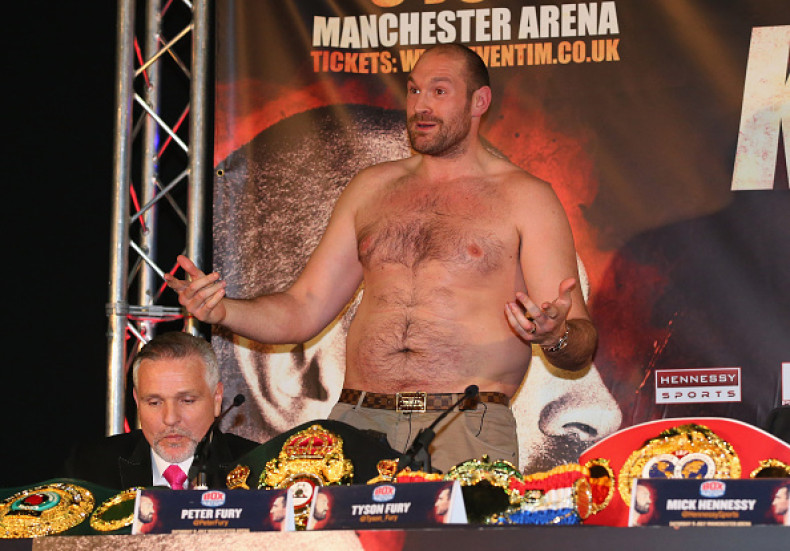 Tyson's Fury trainer and uncle Peter Fury has claimed that the current World Boxing heavyweight champion is more than capable of shedding the extra pounds before his rematch with Ukranian Wladimir Klitschko.
Tyson, who holds the World Boxing Association (WBA), World Boxing Organisation (WBO) and the International Boxing Organization (IBO) titles, caused a storm at a recent promotional press conference with his antics, admitting his lack of love for boxing and bared his out-of-shape figure before claiming that Klitschko "could not beat a fat man".
"It's a disgrace to call me an athlete, you can't call me an athlete. I don't live an athlete's lifestyle, it's an absolute disgrace to call me an athlete. Does this look like a fighter's body? Clearly not. Do I give a f**k? No. Have a look fat man-that's who beat you. Shame on you my friend. You let a fat man beat you," he had said.
The outburst caused a controversy, with both fans and experts criticising his remarks, with many commenting on his weight and if that would be a cause of concern for the Brit. However, his coach and uncle Peter thinks it is not a big problem, claiming the boxer will be in shape ahead of the re-match on 9 June.
"Believe it or not he hasn't got that much weight to lose. Looks can be deceiving. I think he's just under the 20 stone bracket at the moment and we have got a ten week camp, so for a heavyweight that's not a lot of weight to lose. That's like a lightweight losing four or five pounds", Peter said, as quoted by talksport.com.
The initial bout, which took place on 28 November 2015 at Dusseldorf, Germany, saw Fury win after 12 rounds by an unanimous points decision. However, Peter feels that this match will be more tight.
"The first fight went exactly to plan for us, to be honest. But I think the rematch will be a lot more severe. It's going to be a different sort of fighting, it will be a completely different type of fight."
Fury and Klitschko re-match is scheduled to take place on 9 June at the Manchester Arena in Manchester.