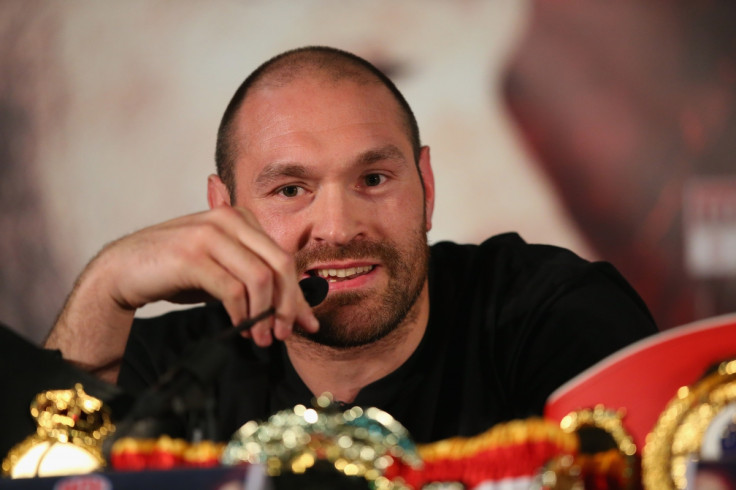 Tyson Fury's hearing into an alleged doping violation will take place in November, after his rematch with Wladimir Klitschko. The heavyweight champion, who is due to face Klitschko on 29 October, was charged by the UK Anti-Doping Agency (Ukad) in June.
Subsequently, however, a provisional suspension was lifted pending an independent investigation. Fury has consistently denied any wrongdoing and has even threatened to sue Ukad for their role in the affair.
The samples were taken 19 months ago, nine months before Fury beat the Ukrainian in Dusseldorf, Germany. According to the champion, Ukad informed him at the time that he would not face any action over the failed test. He said, too, that a blood test taken at the same time and all subsequent tests have revealed no traces nandrolone, the drug he is alleged to have taken.
Peter Fury, Tyson's uncle and trainer, has revealed his fighter is "very upset" with how Ukad has dealt with the situation. "There's been chaos around this fight, especially with Ukad slipping statements out to the press," said Fury, according to the BBC. "Tyson was found guilty before he was even tried. But I told him that the main thing is he knows what the truth is and that it will come out eventually."
Fury-Klitschko II was originally scheduled for July before the Englishman twisted an ankle in training. However, Frank Warren – who is co-promoting the event – is confident the fight will eventually take place. "After all the injuries and contractual problems, there is no danger of the fight not happening," he said.
Klitschko, on the other hand, is not 100% certain of the fight taking place, especially after Fury missed a press conference on Monday (12 September) because his car broke down. "I wouldn't have been surprised if Tyson Fury had turned up and sung a song, so I'm not surprised he hasn't turned up at all," he said.
"Even if it doesn't happen in October, I will wait. I've never had such a long break between fights but I've been active, even if I haven't been competing. I'm just waiting for my revenge. I just hope he's going to turn up."