The number of executions and death penalties in the U.S. has continued to steadily decline, reaching a record low in 2011 as public support for capital punishment appearing to languish.
An annual report by the Death Penalty Information Centre revealed that the number of people sentenced to the death penalty dropped below 100 for the first time in 35 years.
A total of 78 people were sentenced to death by lethal injection this year, a decline of around 75 per cent from 1996 when 318 were sentenced. This number drastically declined from the 112 people who were sentenced to death in 2010 and 224 in 2009.
The report revealed that the number of people executed by U.S. states this year totalled 43, down from 46 the previous year and 85 in 2000.
These figures appear to directly correspond with a decline of public support for the death penalty in recent years. According to a poll conducted by the Lake Researchers Partners, 61 per cent of people would rather choose a punishment rather than a death penalty for murder.
This reflects a poll conducted by Gallup, who regularly track abstract support for the death penalty. Their latest figures showed that 61 per cent of the population supported the death penalty, compared to 80 per cent in 1994.
"Public support for the death penalty dropped to its lowest level in almost 40 years," explains Richard Dieter, the director of the information centre.
"The multitude of problems associated with the death penalty is gradually convincing Americans that it can no longer be sustained.
"Whether it's concerns about unfairness, executing the innocent, the high costs of the death penalty, or the general feeling that the government just can't get it right, Americans moved further away from capital punishment in 2011."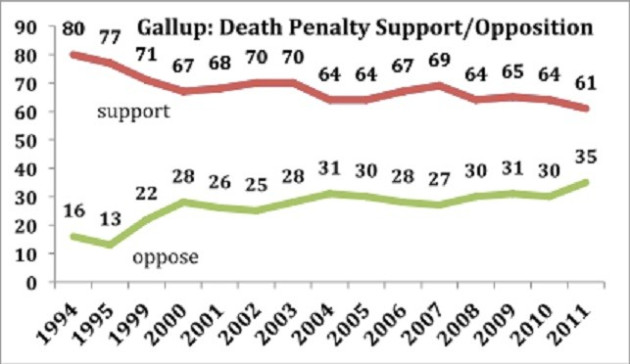 The outcry agianst the death penalty reached new levels earlier this year following the execution of Troy Davis in Georgia in September.
Davis was put to death by lethal injection on 21 September after being found guilty of murdering an off-duty police officer in 1991. There was a public dismay that there was too much doubt in the case after seven of the original nine witnesses at Davis' trial recanted their statements.
One of these included a man who swore under oath that it was a man named Sylvester Cole who had shot MacPhail.
A second witness also claimed under oath that he had heard Coles confess three times to the killing of MacPhail and was using Davis as a fall guy.
There was also no physical evidence which linked Davis to the killing of officer Mark Macphail.
Amnesty International's "Too Much Doubt" gathered over 650,000 signatures in a bid to avert the execution, which also gained support from various celebrities and musicians. The campaign to release Davis also included intervention by the Pope, Jimmy Carter and several Georgia judges.
The gradual decline in support for the death penalty has led to certain states dropping it entirely. Four states in the past four years (Illinois, New Mexico, New Jersey and New York) have abandoned the death penalty, bringing the total number of states which have outlawed the death penalty to 16.
34 states still have capital punishment law, but only 13 of these carried it out in 2011. Three of these states - Texas, Virginia and Oklahoma - account for more than half of the 1,127 executions that have occurred since 1976. Texas alone has carried out 37 per cent of these, with 477 in total.
The state with the highest death row population is California with 721, but no one has been executed there since 2006 because of a court-ordered moratorium. California votes are set to decide whether or not to abolish the penalty next year.