Two Disc-Shaped UFOs Spotted over Berkshire Pub [PHOTO]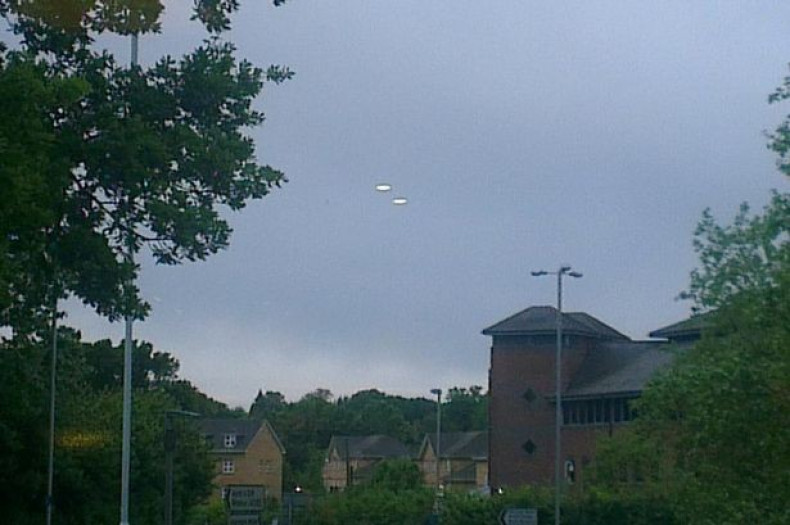 A man from Basingstoke, UK, has photographed two Unidentified Flying Objects (UFOs) hovering over the skies of Bracknell, Berkshire, on the night of Friday 14 June.
Steve Lambert was on the terrace of the Running Horse pub when he spotted two lights in the distant sky at about 8pm.
"They were heading south-west at speed towards Basingstoke - quicker than any normal aircraft. They were there for less than five seconds," the 42-year-old told getreading about the unusual sighting.
Lambert initially posted the picture on social networking site Facebook and is now asking for other witnesses to corroborate the events of the night.
"I have seen a lot of funny things in the sky and I have always practised trying to take a photo quickly on my mobile phone," Lambert said.
"I am interested to see if anyone knows what it is. If someone else saw a funny light or pair of lights then we know there is something out there. I really want to know what is going on out there - there probably is life out there," he added.
This is the second time in one week that a UFO sighting has been reported in England.
Earlier this week, it was reported that a woman in Bromley, Kent, photographed an Unidentified Flying Object (UFO). The woman, who did not want to be named, reportedly took the picture on 27 April when she was awakened by a loud noise.
"I woke up to this noise. I thought 'what on earth is that?' I went to my back bathroom window and in the distance I could see a big aircraft with all these lights," the woman told News Shopper.
Another UFO was photographed in the skies above Muiderslot Castle outside Amsterdam earlier this month. In May, there were reports of UFOs photographed over mountains in Canada
READ: Bracknell UFO Sighting 'One of the Best' Says Expert and UFO Filmed in London [VIDEO]