Political tensions are running high as 15 million Ugandans prepare to head to national elections on 18 February, in which President Yoweri Museveni will be contesting his fifth term in office. Nine candidates are competing for the presidency this time around. IBTimes UK looks at the main contenders of what is essentially seen as a three-horse race.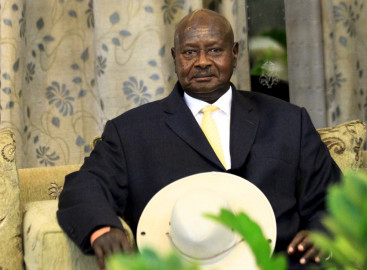 Yoweri Museveni
Backed by the National Resistance Army, Museveni came to power in 1986 after a guerilla war, and has been in office since, under the National Resistance Movement (NRM) flag.
The 1996 and 2001 elections were held under the one party NRM system - referred to as "no-party" democracy. In 2005 a return to multi-party politics was introduced after a successful "Yes" vote in a nationwide referendum, which also amended the Constitution to lift the two-term limit on the office of the president.
Museveni, who won three presidential terms since the referendum, is now running for his fifth term, which would extend his 30-year rule. In 2011, Museveni amassed 68% of the votes, despite more than 5 million frustrated registered voters failing to turn out for the elections.
While some analysts say his re-election is seen as a foregone conclusion – a Research World International poll in August found that 45% of Ugandans did not believe that the elections could lead to power changing hands – the 71-year-old's popularity has been losing steam and turnout is expected to be low.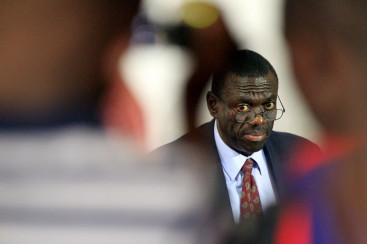 Dr Kizza Besigye
For the last 15 years, Ugandan elections followed the same two-way contest scenario, in which Besigye, the country's main opposition figure, challenged the incumbent before declaring defeat.
The retired colonel will be running for the fourth time on the ticket of the largest opposition party, the Forum for Democratic Change (FDC). Although he was recently released from house arrest, soldiers remain outside his Kampala home.
Charged with multiple criminal offences during the campaigns, his participation in the 2006 elections ended in controversy after he rejected the election outcome and the Supreme Court upheld Museveni's re-election, despite finding electoral irregularities. These included, bribing, threats, violence and preventing citizens to vote.
In the run-up to February elections, Besigye has been prevented from addressing rallies and one of his FDC party officials was allegedly stripped as she tried to attend one of Besigye's rallies in the south-western district of Rukungiri in October 2015. Human rights campaigners described Zainab Fatuma Naigaga's arrest as "dehumanising".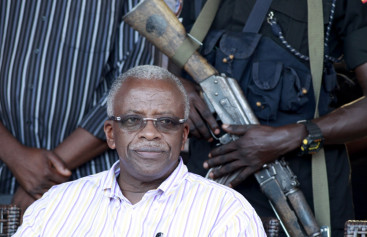 John Patrick Amama Mbabazi
Museveni will face his long-time advisor Amama Mbabazi – a former Prime Minister and former NRM Secretary General – in what many describe as a shake up of familiar logics.
The 66-year-old lawyer was one of Museveni's closest advisors for 30 years and was Secretary-General of the NRM party between 2010 and 2014. As Museveni's main strategist, he instrumented the 2005 removal of term limits in Uganda's constitution.
Mbabazi was unceremoniously fired from his prime ministerial role in February 2014, three years after his nomination, after announcing he would stand against the President. In December, an NRM delegates' conference also axed Mbabazi as Secretary-General.
Mbabazi, who will be running under the GoForward banner, has faced similar issues as Besigye. He has been prevented from addressing rallies and was arrested at least once in the run-up to the polls.
Through a new opposition platform called the Democratic Alliance, Mbabazi has found support in other opposition parties, but he has also retained a wide network of followers in the NRM, the cabinet, and security and public services.
Many saw his quarrel with Museveni as an opportunity to end the current regime.