Uganda Elections 2016: Opposition leader Kizza Besigye's arrest charges are 'sham' claims his party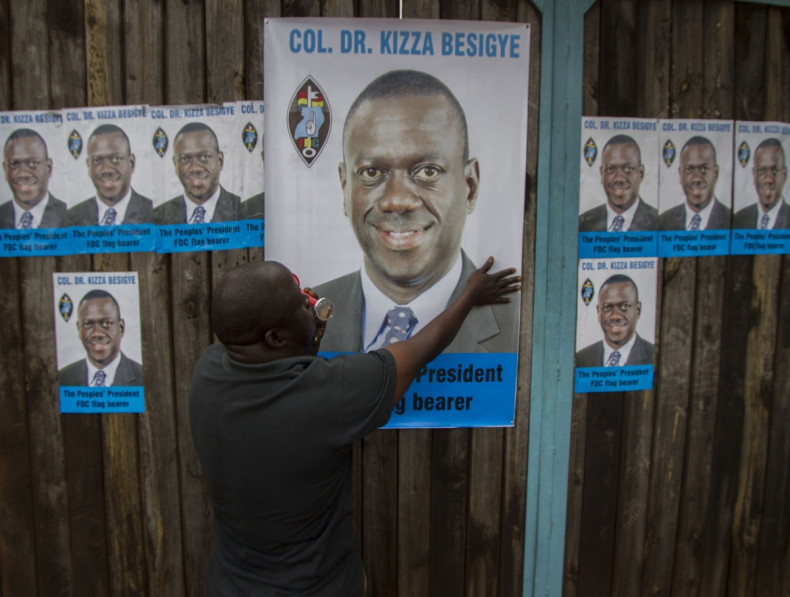 Uganda opposition leader Dr Kizza Besigye was allegedly 'arrested for trespassing on a military installation', according to his political party, which claims the alleged charges against the politician are a sham.
According to reports, Besigye and a number of his Forum for Democratic Change (FDC) supporters had earlier claimed they had exposed a house in Naguru, Kampala, as a vote-rigging centre, according to Kampala-based Al Jazeera correspondent Malcolm Webb.
Allegedly, when Besigye and his team knocked on the gate of the compound, the house's occupants ran out the block, but were stopped and found carrying police guns. Police arrested him after apparently refusing to open the gate to the alleged vote rigging centre. Later in the evening, however, his political party confirmed the Besigye had been 'driven home' to Kasangati while authorities said the politician had been 'released without charges'.
Police spokesman Patrick Onyanga told local media police were filing a case against Besigye 'on criminal trespass', adding that the facility that Besigye suspected to be a rigging site "was a police communication centre".
Criminal trespass charges 'an excuse'
While the FDC asked not to reveal the source who confirmed Besigye had initially been arrested 'for trespassing a military installation, an FDC official exclusively told IBTimes UK the party would reject the charges. "It's basically the same as telling him he has trespassed a diplomatic house, but we all know that was a vote-rigging centre. It's just a blanket of an excuse," Thomas Ddumba, told IBTimes UK from Kampala.
"Because, if you do trespass military installations, there is a formal charge for that. But, the way the authorities go around that is by getting (driving) him back to his house, so there are no formalities." He added: "Legally, they can't say it that someone has been arrested, and that's why the authorities have said they just picked him up and dropped him at his house."
Widespread allegations of vote rigging
His arrest came as, due to late deliveries of voting materials, Ugandans waited in the unbearable heat to vote in the Ugandan presidential and parliamentary elections amid claims by the main opposition party that the delays were deliberate and in favour of current president Yoweri Museveni (NRM).
The spokesman for Kizza Besigye's party, the Forum for Democratic Change, said the delivery delays were a "deliberate attempt to frustrate" voters in urban areas where Besigye is believed to be very popular, especially Kampala and the neighbouring district of Wakiso. The seven opposition candidates are striving to beat the current president, fearing that violence could affect the vote, with the leading opposition candidates claiming that ballots have been rigged.