Uganda election: Voters wait for hours amid claims delays are 'deliberate and favour Museveni'
After late deliveries of voting materials, Ugandans waited in the unbearable heat to vote in the Ugandan presidential and parliamentary elections amid claims by the main opposition party that the delays were deliberate and in favour of current president Yoweri Museveni (NRM).

At 12pm, with more than 15 million people registered to vote, including members of parliament as well as the president himself, polling stations were experiencing a waiting time of five hours, and some polling stations in the Ugandan capital of Kampala had still not received their ballot boxes. The boxes, which had arrived at certain polling stations, came mid-morning, but with still no ballots cast, people were left to form long lines, sweltering in the heat. At other polling stations in Kampala, the wait to vote was reported to be taking up to seven hours, with reports of people being told that votes were only to be cast for choosing members of parliament, not for the voting of a president.
"These cases are worrying because every citizen of Uganda has the right to vote," said Eduard Kukan, chief of the European Union's election observer mission. "And if they are prevented by this kind of method then it would have to be criticised, because it would mean that they didn't manage the organising of the elections in the right way."
Many of those waiting said they would refuse to leave without voting."This is very disappointing but I am going to stay here under the sun until it is my turn to vote," said Fred Mubiru, a taxi driver. "Nothing will discourage me."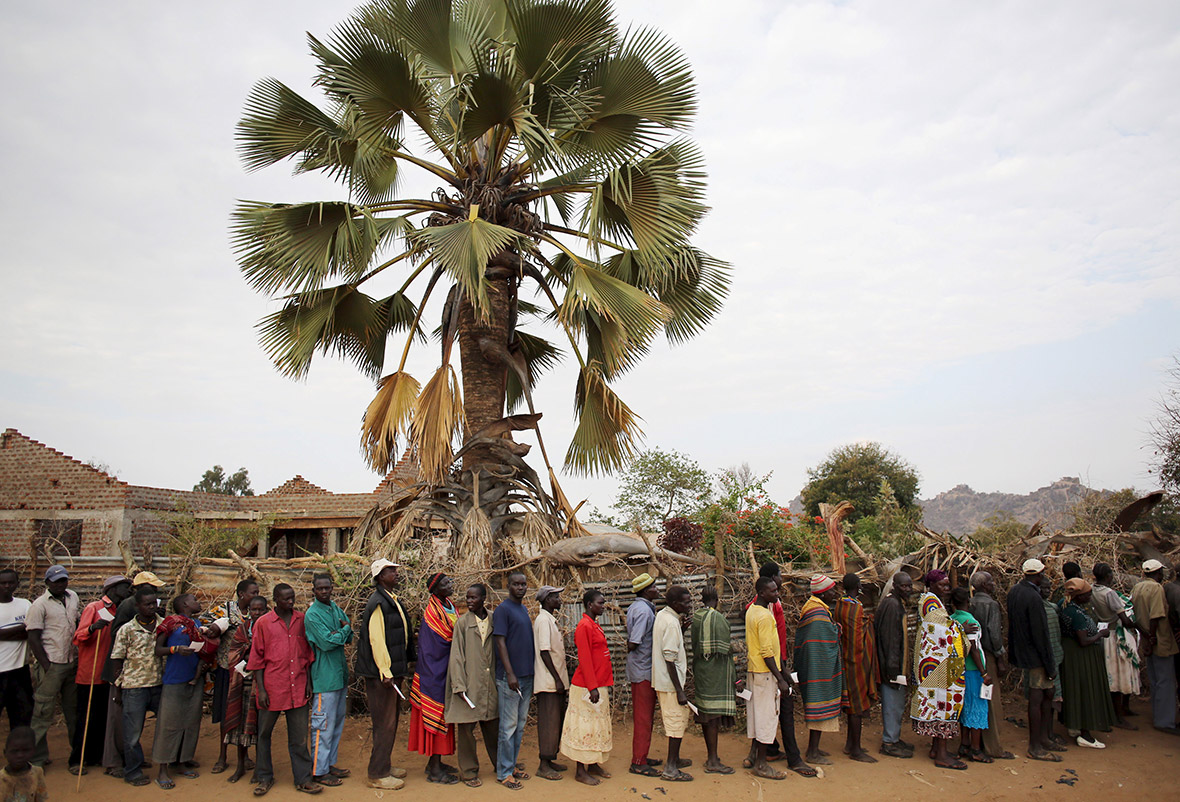 The spokesman for Kizza Besigye's party, the Forum for Democratic Change, said the delivery delays were a "deliberate attempt to frustrate" voters in urban areas where Besigye is believed to be very popular, especially Kampala and the neighbouring district of Wakiso. The seven opposition candidates are striving to beat the current president, fearing that violence could affect the vote, with the leading opposition candidates predicting that ballots will be rigged.
"Such a day is highly undermined by the lack of free and fair elections," opposition candidate Kizza Besigye said, as he cast his vote in Rukungiri village in western Uganda. Besigye has run unsuccessfully in three previous elections.
Museveni, 71, came to power in 1986 after waging a five-year guerrilla war, yet many Ugandans now credit him with providing peace and economic stability. Yet many of Uganda's younger voters blame Museveni for not tackling endemic corruption or creating enough jobs, and want change. "We are so far behind. We need to open our eyes and move into the 'now' tense," Joel Nyonyintono, a 26-year-old entrepreneur said as he sat near a church in Kampala.
Meanwhile other voters, like 56-year-old fruit vendor Nanteza Beatrice, say change makes them nervous.
"We have had peace for a long time and these young people are taking it for granted because they don't know how it was before," she said, referring to years when Uganda was ruled by two dictators infamous for unpredictable violence.