Ugandan President Yoweri Museveni's promotion of his eldest son as a special presidential adviser is a further indicator that Muhoozi Kainerugaba, who has attended many prestigious colleges including Sandhurst and Fort Leavenworth in the US, is being groomed for the top seat.
Uganda's ruler for 31 years, Museveni, now 72, is said to be planning to transfer power to his son, a Major General in the Ugandan military. Part of a reshuffle of the nation's army commanders, Kainerugaba was appointed to the new position on 10 January.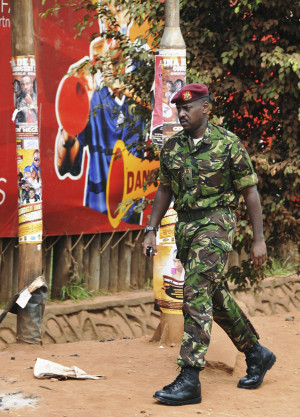 "It is part of Museveni's efforts to prepare him for when he can take over as President - I really believe this is a smart move he has made," political commentator Nicholas Sengoba told IBTimes UK.
"Kainerugaba is very well trained, and that is essential for anybody hoping for leadership in Africa – to have a proper understanding of the military and influence. Kainerugaba has climbed up the ladders, at a time when the old guard is being phased out.
"So that can give him an opportunity in case he decides to claim for leadership," said Sengoba, speaking from the capital Kampala. "His position will give him the upper hand to command men who are younger than him, who do not hold any ties to the history of the country."
While Kainerugaba has risen rapidly within the military ranks, he was lacking an understanding of the civil side of leadership. This, Sengoba says, has been a dilemma for Museveni.
"If he wanted to appoint his son to a purely civil position, for instance as a minister, there would be questions as to whether he should leave the army. If he did appoint his son as a minister it would be a very big problem," Sengoba explained. "So the fastest way to do it is to appoint him to some ambivalent position. In this newly created special presidential adviser position, he is now almost at the level of a minister."
The independent Ugandan political analyst believes Museveni now needs to create a "Special Operations" unit, which could deal with anything to do with corruption, procurement, vetting appointments from a security point of view, shuttle diplomacy, or representing the President.
"With his position and that Special Operations unit, Kainerugaba would qualify, and could be closer to the State House."
Opposition: 'This is the true successor to the dictator'
Uganda's opposition, meanwhile, has expressed concerns over the appointment. Prince Dickson Wasajja, Chairman of the opposition FDC party, told IBTimes UK:
"It's a state-managed exercise, orchestrated to place the son in a strategic position, whereby it will make it easier for him to ascend to the Presidency. Museveni's son is now portrayed as somebody who has removed the military attire, putting on a suit. But it's just a facade: this is the true successor to the dictator. And we are strongly opposed to this."
Describing how the project "is not good for Uganda, not good for the region or for Africa, and a blow to democracy", Wasajja said he feared those opposed to Museveni's imposed choice of succession may lead to "a bloody fight".
"Museveni is making it clear this is a family rule and some may try anything possible to try and stop that project, which may result in a chaotic situation in the country."
He added: "There are people within the NRM (ruling party) who are strongly opposed to Museveni transforming the leadership into a monarchical rule. But the moment there is an opportunity for those people to strike, the country will be on fire, and Maj Gen Kainerugaba's appointment raises serious concerns because repercussions within the ruling party will go far and wide."
In February 2016, Museveni defended his decades-long tenure as Uganda's head of state, by saying he is "not a fan of presidency", ahead of the nation's presidential elections. Museveni secured a fifth term in office, after he denied allegations of vote-rigging.