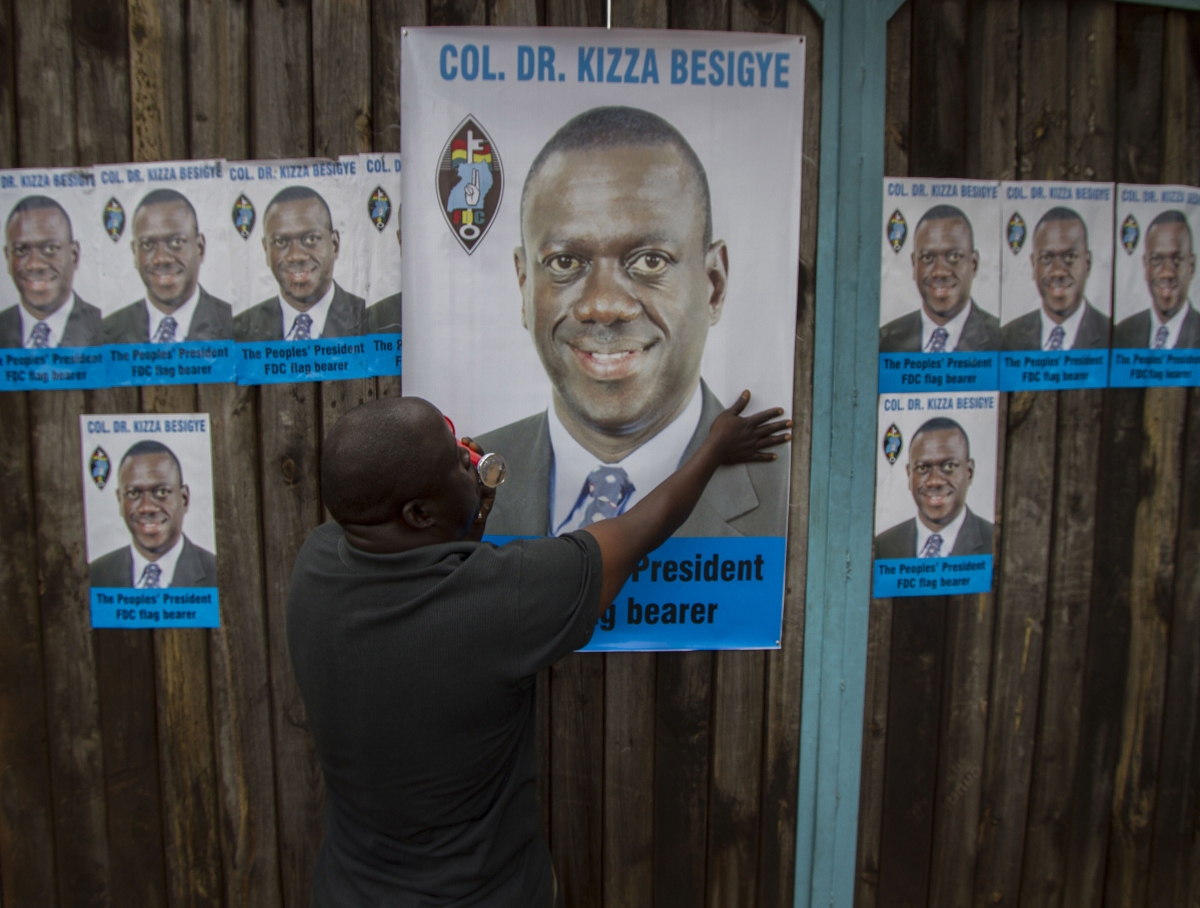 Some 15 million Ugandans will head to national elections on 18 February, in which major issues are at stake.
While a fifth term for President Museveni, extending his 30-year rule, is seen as a foregone conclusion, IBTimes UK looks at what the nation can expect from the upcoming poll.
Government funding
Topping the list will be the challenge of funding. Indeed, Gabrielle Lynch, associate professor of comparative politics at the University of Warwick, UK, told IBTimes UK a huge amount of money has been spent on this electoral campaign, and "there is not going to be much left in the coffers for the next financial year".
In July 2015, the Wall Street Journal (WSJ) revealed that Museveni had authorised payment of at least $15m (£10.3m) to MPs to supplement their travel expenses as they toured the country ahead of the 2016 presidential election – a move critics have described as "politically motivated". According to the newspaper, Moses Bwalatum, a parliament spokesman, said that each lawmaker would receive around $40,000, almost five times their monthly pay.
"The ruling party has weakened itself over the past two years by valuing personal loyalty to Museveni over internal democracy," François Conradie, a political analyst with South Africa-based NKC Africa Economics, told WSJ.
Uganda's prime minister, Ruhakana Rugunda, meanwhile, denied budget spending was linked to electioneering, adding that the government would not be used to support Museveni's re-election.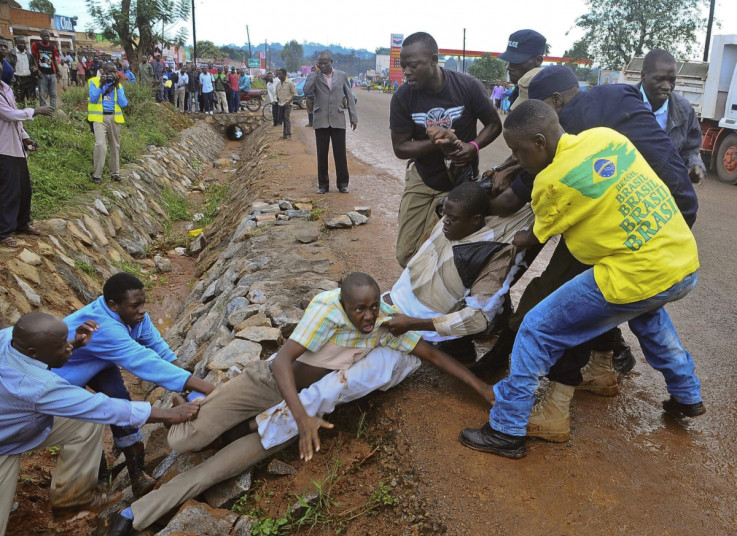 Violence erupted during the 'Walk-to-Work' protests against surging consumer prices and wasteful government spending in April 2011
Reuters/Edward Echwalu
"Government is guided by the budget in its expenditures. What it spends is predetermined by the budget, which must be approved by the parliament." Rugunda told WSJ.
Yet, a record $7.9bn budget — a 58% spending rise over the previous financial year – will leave whoever wins the polls with the issue of a limited budget to lead reforms, in the context of an already deeply indebted government facing inflationary pressure.
"Although a lot of promises have been made, it's a question of where the funds will be coming from," Lynch explained. "There is a lot of pressure to do something about jobs, payment of civil servants (teachers for instance). It will be very difficult to put a lot of these promises into effect."
In April 2011, Uganda was rocked by weeks of demonstrations – so-called Walk to Work protests – against spiralling food and fuel prices. The source of the discontent laid in $1.3m splashed out on Yoweri's swearing-in ceremony (after he won the February 2011 elections), and the acquisition of a eight fighter jets for a total cost of $740m – which the government justified by saying the nation needed to strengthen its defence systems.
This time round, data from 2015 showed youth unemployment peaking at 78% in some areas, and a restricted budget may mean Museveni could lose support in some rural areas where his popularity has been somewhat waning – leaving space to former prime minister Amama Mbabazi and veteran opposition leader Kizza Besigye (See more: Who are the main candidates running for president?)
Besigye or Mbabazi, meanwhile, made extensive promises in their manifestos – with election pledges revolving around job creation, teachers' pay increases, improvement of the decrepit healthcare sector for instance, but may not be able to make good on their ambitious reforms if the tight fiscal situation remains at current levels, Lynch added.
Museveni's last election?
In this context, Lynch believes there seems to be a strong feeling within the ruling National Resistance Movement (NRM) that these have to be incumbent president Museveni's last elections.
"I think there will be a stronger push for some kind of succession between now and the next election, and this is being reinvigorated by recent events in Tanzania," Lynch said. In neighbouring Tanzania, the Party of the Revolution (Chama Cha Mapinduzi, CCM) – the longest reigning ruling party in Africa – retained power in the October 2015 elections.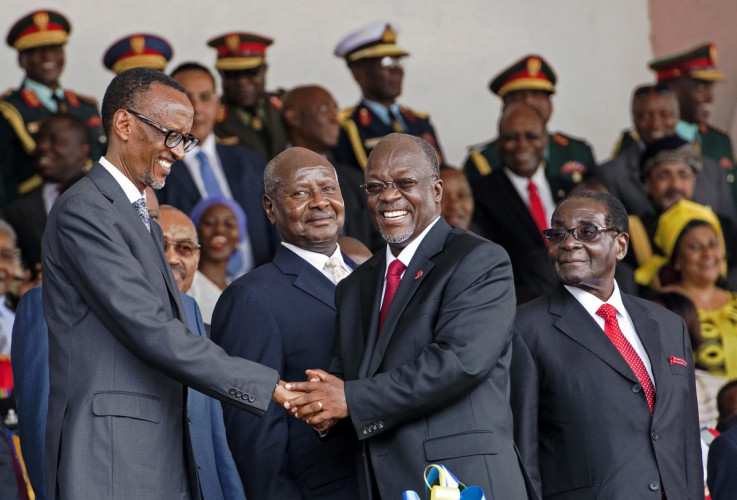 Tanzania's newly elected President John Magufuli shakes hands with Rwanda's President Paul Kagame (L) watched by Zimbabwe's President Robert Mugabe (R) and Uganda's President Yoweri Museveni (2nd L) during the swearing in ceremony in Dar es Salaam in November 2015
Daniel Hayduk/AFP/Getty
But new President John Pombe Magufuli was a surprise choice of candidate. Indeed, he was never a CCM party stalwart, and his candidature was widely criticised – leading CCM cohort and ex-prime minister Edward Lowassa to cross over to the opposition to challenge Magufuli for the presidency.
Once elected, however, Magufuli took steps to become more popular, joining hundreds of residents in the nation's largest city, Dar es Salaam, to take part in a public clean-up operation. He had ordered the scheme to replace independence day celebrations, saying it would be deplorable to waste millions of dollars on parties and military parades in a nation still fighting fatal bacterial infection such as cholera.
Nicknamed "the Bulldozer", Magufuli is indeed pushing ahead with reforms, and his decision to cut over-the-top government spending, battle corruption and improve services such as healthcare has even given birth to a hashtag #WhatWouldMagufuliDo.
"(Magufuli's) first few months in power have been discussed in neighbouring countries in Kenya and Uganda, and there is some feeling that perhaps Ugandans could have that: change and a more radical insider from the NRM who would not be such an ally of Museveni," Lynch explained.
"That will be an interesting question going forward, and will be quite significant in terms of people developing their ideas."