Uganda's controversial former intelligence chief, General David Sejusa, has appeared at a court martial in the capital of Kampala.
Sejusa fled to the UK in May 2013 after calling President Yoweri Museveni a dictator and alleging officials were plotting to kill people who opposed Museveni's plan to transfer power to his son Kainerugaba Muhoozi, a brigadier in the Ugandan military. The government denied the claims.

The Ugandan whistleblower, who returned from self-imposed exile after 18 months, has maintained his criticism of the regime, and was arrested on Sunday (31 January) in Kampala by the Uganda Peoples Defense Forces (UPDF).
His arrest came as Ugandans prepare for 18 February presidential elections in which Museveni, who has been in power since 1986, is seeking a fifth term in office.
Unknown charges
The exact charges against Sejusa are not clear. Bloomberg news agency on Monday (1 February) quoted government spokesman Ofwono Opondo as saying Sejusa was arrested because he was actively involved in partisan political activities.
"First of all as you know, General Sejusa ran out of Uganda. Then he was given clemency on his return," Opondo said, adding Uganda was "investigating reports that appear to link" Sejusa to groups that have "sinister plans" for civil disobedience.
"Nevertheless, it seems he has not learned from his lesson, and he has been actively engaged in supporting partisan politics contrary to established laws and the constitution of Uganda which specifically bars serving military officers and men from siding with candidates in elections," he said.
Sejusa's attorney, Ladislaus Rwakafuzi, told Voice of America (VOA) Sejusa's arrest was illegal since the army had no arrest warrant and refused to explain the circumstances that led to the arrest.
Sejusa tried in court martial
Sejusa appeared in court on Tuesday (2 February) in front of chairman Major General Levi Karuhanga.
The general, who was saluted by a junior rank officer as he walked in court, was charged with 'absence without leave'. His lawyer David Mushabe refuted the claim, saying Sejusa had already "applied for retirement" from the army and was "effectively dismissed by the army", according to Raymond Qatahar, a Nation Media Group journalist present at the hearing.
Museveni's long-time critic said he would not take a plea. "I'm hearing these charges for the first time," he said, adding "I have been in jail for three days. The army had an opportunity to give me a charge sheet but they just scribbled it 15 mins ago".
Arrest has 'strong election link'
Lawyer Rwakafuzi, meanwhile, told VOA Sejusa's arrest could be linked to the upcoming election since the general has been advising opposition leaders – including main opposition leader Kizza Besigye – on ways to prevent rigging of the ballots.
Rights groups have accused Museveni's regime of using state security to silence criticism and intimidate Museveni's rivals in the run-up to the poll, charges the government denied.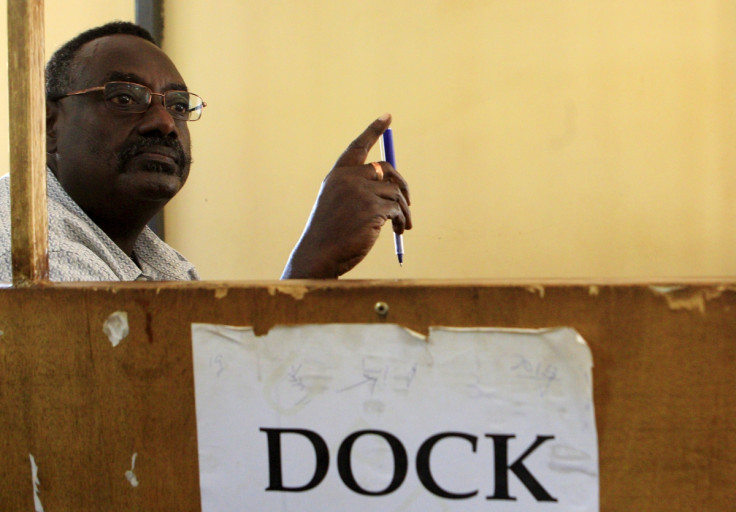 ---