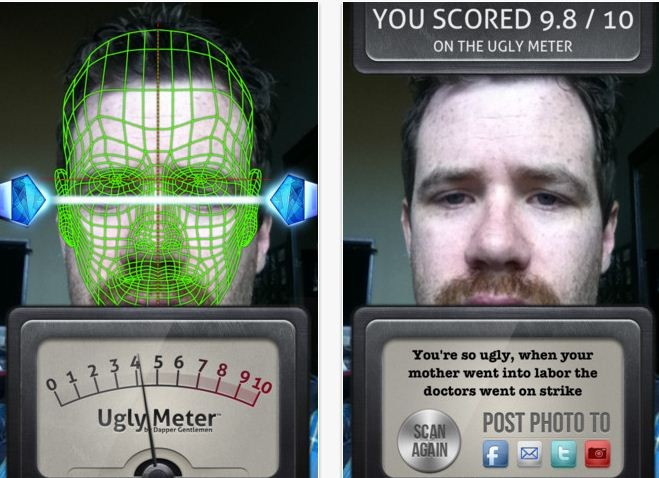 Want to check how ugly you are? An iPhone app, which has turned a huge hit among users, rates how ugly you are on a scale of 1 to10.
It reportedly topped Chinese iPhone charts for three weeks. The app gained popularity and made $80,000(£49 698.7016) in a single day after being mentioned on the Howard Stern radio show on Sirius XM in the US. Even television personalities including Jay Leno and Kellie Rippa have mentioned the app on air. Incidentally, the app's developers claim the "Ugly Meter" now has more than five million users.
How does it work? The application allows the user to snap an image of his or her face which is then analysed on the basis of structural elements in a scientific way, determining the symmetry of the face and looking for things like contours. Along with analysis, the details of human faces are added with some heartbreaking comments.
Some of the comments: "Wow, you're ugly, is your doctor a vet? You're so ugly, you could make a glass eye cry. You're so ugly, when your mother went into labour the doctors went on strike."
Even glamorous celebrities were not spared from being bullied by the app. According to the Daily Mail, Actor Brad Pitt scored 8.0 and received an unpleasant comment: "You could walk through a haunted house and come out with a paycheck."
His partner Angelina Jolie impressed with a v2.0 score, with a much flattering comment: "You're so hot that you make the sun jealous."
British Prime Minister David Cameron outshone Pitt with 7.0, but was told: "If ugliness were bricks, you'd be the Great Wall of China."
The application has a striking tagline including: "Met someone new? Scan their face to find out how ugly they are" and "When your friends won't tell you the truth, the Ugly Meter will."
There are three versions of the Ugly Meter in the App Store: a $0.99(0.614772 GBP) version and a $4.99(3.09862 GBP ). There are also a Pro version for iPhone, and an iPad version. The Pro version does a more detailed analysis and helps users to take straighter photos for better results, and ranks photos on a 100-point scale, rather than 10. There's also an Ugly Meter Baby Edition available.