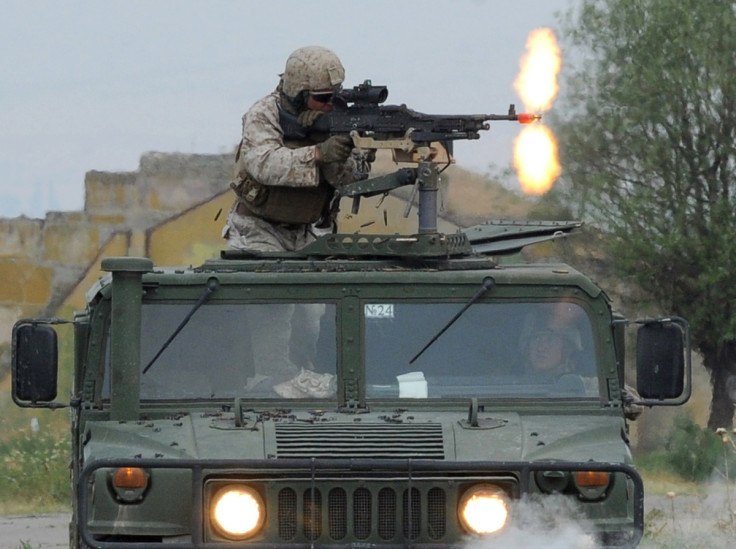 Britain is to commit to open-ended troop deployment in the Baltic states as NATO looks to check Russian aggression on its eastern border. The British Defence Secretary, Michael Fallon will announce the commitment as ministers from the treaty organisation meet in Brussels to discuss the Kremlin's military operation in eastern Europe and Syria.
Ministry of Defence officials told FT that the British force, operating alongside US and Germany, would comprise a single company of troops, or about 100 troops. Michael Fallon will say in Brussels: "We are already deploying RAF jets to the Baltics and providing crucial training to the Ukrainian armed forces. Now we will have a more regular drumbeat of troops deploying in the Baltics and Poland."
The defence minister will also announce further details of plans to scale up Britain's current training mission for Ukrainian armed forces. At present 75 British Military trainers have worked with 1,600 Ukrainian troops.
The British Baltic deployment will form part of a US-German plan agreed in June. The three nation's troop deployments will operate on a rotation, allowing the NATO member nations to deploy the troops on a long term basis, without violating agreements struck after the fall of the Soviet Union.
In June the US said it would deploy 250 tanks and other armoured vehicles across six eastern European Nato signatory nations. Bradley armoured fighting vehicles and self-propelled howitzers, enough to arm one combat brigade, were to be positioned in Estonia, Lithuania, Latvia, Bulgaria, Romania and Poland, under announcements made by US Defence Secretary Ash Carter in Talinn.
The US defence chief also pledged weapons, aircraft and troops, including commandos, to Nato's new rapid reaction force following Estonia's largest ever military drills in May. The newly deployed British troops will train regularly with Estonian, Latvian and Lithuanian forces to improve their skills and links with Nato forces.
Speaking at the Conservative party conference Michael Fallon accused Russia of not playing by the rules after the country's jets violated the airspace of Turkey, a NATO member.
Nato is poised to discuss Russia's growing military involvement in Syria as defence ministers of the alliance will meet in Brussels. Moscow has been pounding Islamic State (Isis) targets and recently fired 26 cruise missiles from warships stationed in the Caspian sea.