Britain and Cyprus have failed to agree over which country would be responsible for resettling a large group of Syrian refugees whose fishing boats washed up on a UK airbase in Cyprus on Wednesday (22 October).
The group of 114 Syrians, including 28 children, arrived in two fishing boats on the UK base in Akrotiri, on the Southern coast of Cyprus, after smugglers abandoned them. The refugees, who were travelling from Turkey, were left to fend for themselves after smugglers fled in a speed boat, the Guardian reported.
The group is currently detained on the base, and the United Nations refugee agency (UNHCR) said high-level talks were being held between Cyprus and the UK on who is responsible for the refugees. The UNHCR said the refugees were the responsibility of the UK - a view that differs from the UK's Ministry of Defence's which said Cyprus was responsible.
"Under the terms of the 2003 memorandum of understanding signed between the Republic of Cyprus and the UK, asylum seekers arriving directly onto the SBA [Sovereign Base Area] are the responsibility of the UK but they would be granted access to services in the Republic at the cost of the SBA," the UNHCR said in a statement.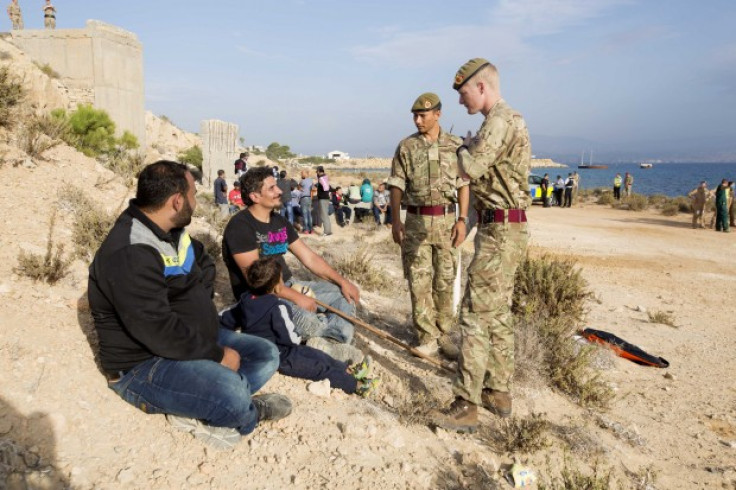 The MoD, in a earlier statement, stated that "We have had an agreement in place with the Republic of Cyprus since 2003 to ensure that the Cypriot authorities take responsibility in circumstances like this."
Kyriacos Mavri, commander of the Cyprus coast guard, told the Guardian he believed the refugees were expected to be transferred to the authorities in Cyprus. "I've heard they may be handed to Cyprus, but that's a decision for the politicians," he said.
The European Union called for a mini-summit on the migrant crisis, as thousands of weary migrants and refugees continued to march across the Balkans towards western Europe. However, thousands have become stranded in worsening autumn weather after Hungary sealed its borders with Serbia and Croatia, triggering a chain reaction in other overwhelmed states.
EU Commission President Jean-Claude Juncker invited Austria, Bulgaria, Croatia, Macedonia, Germany, Greece, Hungary, Romania, Serbia and Slovenia to take part in the summit.