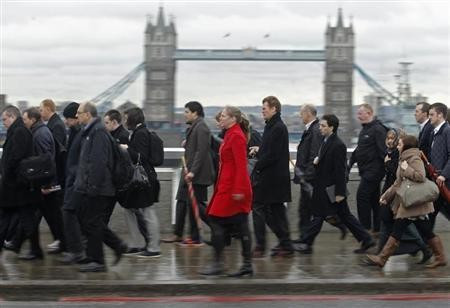 Just 7 percent of Britons expect the limp economy to pick up pace over the coming year, according to a survey by pollster Ipsos MORI.
Of 24 countries surveyed, the UK came 23rd in citizen sentiment over the future of their state's economic performance in 2013, with France the only country worse off at 3 percent expecting an improvement.
It comes after the loss of the UK's AAA status at one of the major credit rating agencies. UK finances were downgraded a notch by Moody's Investor Services amid bloating public debt and continued weakness in domestic output.
Markets shrugged off the downgrade, with gilt yields falling to new lows, but it will do nothing to ease public confidence in the state of the economy.
"The loss of the AAA rating has of course been a shock to the politicians, but it is unlikely to change the mood among the public - they downgraded their assessment of the economy some years ago," said Simon Atkinson, Deputy Chief Exec at Ipsos MORI.
"These figures, like some of our economic data, have flatlined. The public need inspiration from somewhere but, at the moment, they aren't seeing green shoots anywhere."
Only 13 percent of Britons described their economy as in a "good" situation, compared with 65 percent of Germans giving a positive reading of the state of theirs.
Britain's economy contracted by -0.3 percent in the final quarter of 2012, raising the prospect of an unprecedented triple-dip recession.
However, data has improved slightly at the start of the first quarter and most economists think the UK will narrowly avoid a third slump.
---
Follow @shanecroucher