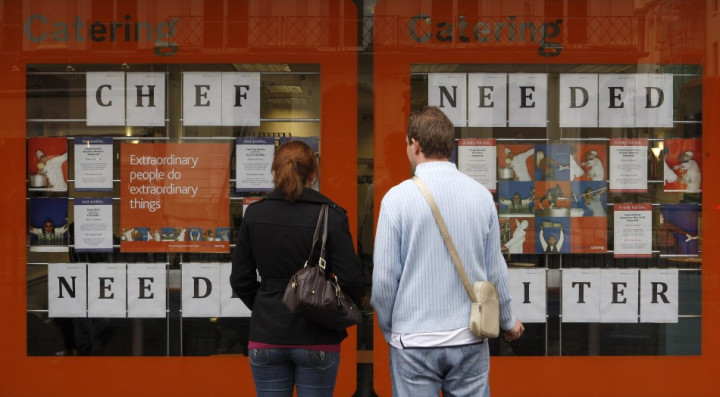 UK unemployment rose slightly in the three months to February, reported the Office for National Statistics, to a rate of 7.9 percent as those in work suffered the lowest rate of growth in their regular pay since records began in 2001.
There were 2.56m people out of work in the period, up 70,000 on the quarter but down 71,000 from a year before.
The employment rate was "virtually unchanged" on the three months before at 71.4 percent, or 29.7m people. Employment has a broad definition in ONS data as it includes those who have worked for at least an hour a week.
Workers' wages continued to fall in real terms, growing by just 1 percent, as rising pay is outpaced by price inflation, which was at 2.8 percent in March.
Research by the Trades Union Congress found that the lowest paid workers are four times worse off from the increase in VAT to 20 percent in January 2011 than what they will receive back as the personal allowance tax threshold rises to £10,000 in 2014.
"The heavy snow placed a crippling freeze on growth for retailers and small businesses," said John Salt, director of recruitment website totaljobs.com.
"The extended winter also put the brakes on building work in the UK. These employment figures, alongside rising fuel costs, have seen both jobseekers and consumer confidence left out in the cold. Although spring has finally arrived, the chancellor will be finding it hard to identify shoots of recovery."
The youth unemployment rate rose again to 21.1 percent, up 0.6 percent on the quarter before.
There were 979,000 unemployed 16 to 24-year-olds.
Competition in the labour market is fierce and young people are struggling in particular.
They are trying to compete against experienced rivals for entry level and low skilled jobs, as the number of underemployed people - those not working enough hours to satisfy their needs - has soared by 1m since the financial crisis.
Government schemes designed to help lift the workless into employment, such as the Work Programme and Youth Contract, are failing.
MPs on the Public Accounts Committee dismissed the Work Programme as "extremely poor" after it managed to move just one in 28 people off benefits and into a job.
Prospects for the labour market are glum with a number of leading economic forecasters slashing their growth estimates for the UK.
The International Monetary Fund (IMF) became the latest institution to revise down its UK growth forecasts.
In 2013 the IMF predicts just 0.7 percent growth across the year, down from a past guess of 1 percent.
Before that the IMF had been predicting 2 percent growth, but weakness in domestic output, dwindling tax receipts, spiralling public debt, and dampened global demand have all weighed heavily on the UK economy in recent months.
As a result the IMF told Chancellor George Osborne to consider relaxing his austerity measures in the short term else risk dragging the economy further down into the mire.
---
Follow @shanecroucher