EU summit: David Cameron and Donald Tusk announce 'special status' deal for Britain
EU summit: Cameron announces 'special status' deal for Britain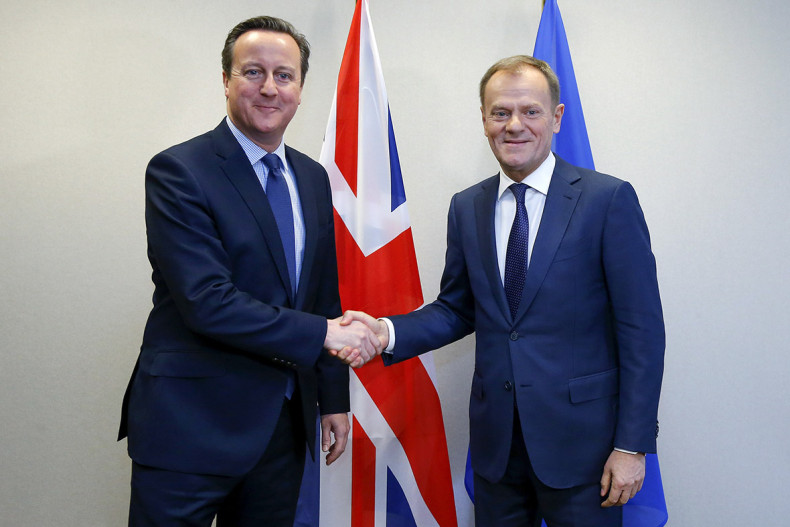 David Cameron has secured a deal on the UK's relationship with the European Union, keeping Britain in the bloc with 'special status'. After two days of intense negotiations in Brussels, EU leaders agreed unanimously on a package of measures, aimed at keeping Britain in the 28-nation bloc, European Council President Donald Tusk confirmed on Friday night (19 February).
Both men made their announcements on Twitter, as leaders at a summit dinner reviewed an amended text that resolved outstanding disputes over welfare benefits for migrant workers from other EU countries and safeguards for Britain's financial services sector from eurozone regulation. "Deal. Unanimous support for new settlement for #UKinEU," Tusk wrote.
Cameron said the deal forged with EU counterparts will give the UK "special status" and is enough for him to recommend remaining in the union. He won a commitment to change the bloc's governing treaties in future to recognise that Britain was not bound to any political union and would have safeguards against financial regulation being imposed on the City of London by the eurozone.
At a news conference shortly after the deal was struck, Cameron said all 28 member states in the EU Council had signed up to "concrete reforms" in each of the four areas that he set out.
"In the last hour, I have negotiated a deal to give the United Kingdom special status inside the European Union. This deal has delivered on the commitments I made at the start of this process. Britain will be permanently out of ever-closer union, never part of a European super-state, there will be tough new restrictions to our welfare system for EU migrants - no more something for nothing - Britain will never join the euro and we've secured vital protections for our economy.
"I believe that this is enough for me to recommend that the UK stays in the European Union, having the best of both worlds."
Imposing controls on migration, there will be new powers to stop criminals coming to the UK and to deport them if they commit crime. Benefits will also be curtailed, with anyone coming to the UK from the EU who does not find work within six months required to leave. There will be an emergency brake that allows the UK to stop paying in-work benefits for seven years.
He added the deal included changes to EU treaties and would be presented to his cabinet on Saturday at 10:00 GMT, when he is expected to call a referendum.
"When I said I wanted reforms that are clear and legally binding, that is what I got. Tomorrow I will present this agreement to Cabinet ... and commence the process set out under our EU referendum act to hold a referendum on Britain's membership of the European Union. The British people must now decide whether to stay in this reformed union or to leave... This is a historic moment for Britain."
The deal comes after several leaders objected to Cameron's planned reforms. Eurosceptics dismissed the reforms, saying they will not allow the UK to block unwanted EU laws or reduce migration.
The EU referendum is expected to be held on 23 June, although this date has not yet been officially confirmed.