The economic recovery continues to translate into more jobs with more staff placements and an accelerated hiring rate in April.
According to research by the Recruitment and Employment Confederation (REC) and KPMG, which questioned recruitment consultants in Britain, the index hit 63.8 in April, up from 62.6 from March.
An index reading above 50 signals a higher number of placements/billings than the previous month.
But temporary/contract staff billings dropped slightly over the same period to 58.9 from 59.9 in March.
The research revealed that the demand for staff among UK employers remained very strong.
The Report on Jobs index for total job vacancies only fell to 67.2 in April, down from 67.3 in March – showing a slight drop in acceleration.
"Recruiters continue to place more people in work as the jobs market accelerates," said Kevin Green, the chief executive of the REC.
"However, the jobs market could be jeopardised with thousands of employers not able to find the skills and talent they need to meet increasing demand."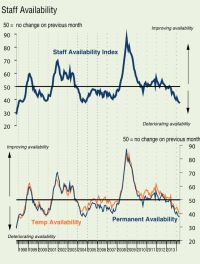 The research also revealed that there was a sharp reduction candidate availability as the index hit 37.6 in April – well below the equilibrium rate of 50 [Fig 1].
The demand for staff and lack of available candidates has pushed wages upwards.
The study found that pay pressure had accelerated further in April reaching 64.7, up from 62.2 in March.
KPMG/REC said that the latest increase was the most marked since July 2007.
The research came after the Office for National Statistics (ONS) revealed that the UK's unemployment rate dropped to 6.9% in the three months to February with more than 30.2 million people in work.