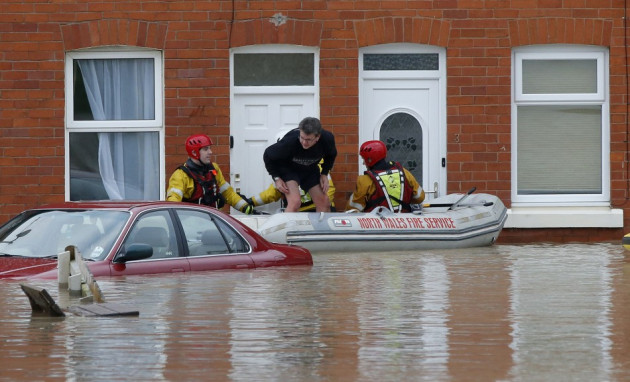 The body of an elderly woman has been pulled from a flooded home in North Wales where a river burst its banks.
North Wales Police said next of kin had been informed but the woman had not been named publicly.
An investigation has been launched into her death, which is being described as unexplained.
Hundreds of homes were evacuated in St Asaph after the River Elwy burst its bank. It reached a record high 14ft 3in (4.35m) at St Asaph - more than 3ft deeper than its previous record in November 2009.
The Environment Agency has issued a severe flood warning - meaning there is a potential for a loss of life - in two areas along the Elwy.
A North Wales Police spokesman said: "Local officers from the emergency services who were conducting house-to-house checks discovered the body of the woman."
An emergency centre has been set up in St Asaph to cope with the crisis following the recent flooding and heavy rain.
The Environment Agency has issued more than 180 flood warnings across the UK - down from more than 200 - and a further 225 flood alerts.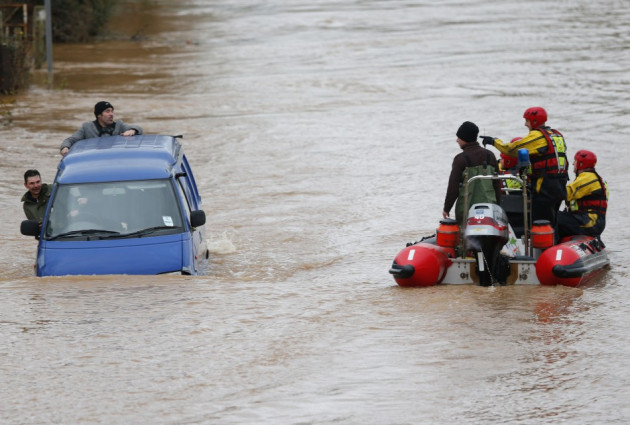 Although the heavy downpours look set to ease, further property flooding and disruption is possible across the country as river and groundwater levels are set to peak in the next 48 hours. Large, slow-responding rivers, including the Thames, Trent and the Severn, are particularly at risk.
Approximately 960 properties have been flooded in less than a week.
John Curtin, Environment Agency head of incident management said: "Further flooding is expected in the next few days and communities across the country, particularly in northeast England, North Wales and Northamptonshire, are urged to remain especially vigilant."
Gemma Plumb, a spokeswoman for MeteoGroup, said: "Although the rain was lighter last night than previous days, the rain fell on already saturated surfaces, adding to the risk of flooding.
"By the end of the day most of the rain would have lifted but temperatures will feel noticeably colder this week, dropping to freezing overnight."