Tens of thousands of homes are without power and commuters are facing more travel disruption after hurricane-force winds battered the UK on Wednesday. According to Major General Patrick Sanders, assistant chief of the defence staff, the storms are an "almost unparalleled natural crisis".
Safe in the comfort zone of Whitehall's plush offices, however, David Cameron and other politicians are at loggerheads over the government's purse strings. The prime minister's "money is no object" pledge on the government's response to the floods crisis is causing a stir, as Cameron leapt into the issue with gusto - now that flooding has affected the Home Counties, of course.
So far, 130,000 homes and businesses are without power, an elderly man has died and the Met Office has issued "red warnings" for wind in north-west England and Wales. People have been warned not to leave their homes, and 16 severe flood warnings are still in place in Berkshire, Surrey and Somerset. And there is still heavy rain and wind to come.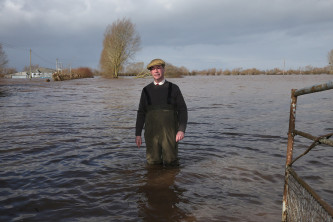 Meanwhile, Ed Miliband is stamping his feet over Cameron's "very grand promise". The prime minister has been forced to do a U-turn on his well-intended pledge, after being not-so-quietly reminded that the transport secretary Patrick McLaughlin had told an interviewer there was "no blank cheque" for the recovery - literally minutes previously. Everyone is now back to square one, where they have been comfortably resting since the first drops of rain fell.
Seeking a chance to woo his Tory supporters, Cameron announced: "As I made clear last night, money is no object in this relief effort. I want communities who are suffering and people who see water lapping on their doors to know that when it comes to the military, when it comes to sandbags, when it comes to the emergency services, when it comes to restoring broken flood defences, all of those things, money is no object."
Having visited Somerset, Cameron removed his wellies and yet again proved that politicians are useless in a flood. Lord Smith, the head of the environment agency, has already infuriated flood victims by announcing a choice had to be made between saving "towns or country" - claiming that there was no "bottomless purse". He must have forgotten that "money is no object".
Of course, money is also an object to some local authorities - who have been limiting the number of sandbags available to residents. There is now a price to pay for residents to try and save their homes from the rising floodwater. The website for South Somerset council says sandbags incur a charge, while Cornwall council are saying residents will be charged £3 per bag if they wish to purchase them.
Still, you can't put a price on the sight of Nigel Farage - who cheerfully waded into the situation in flood-hit Burrowbridge. Adorned in waterproofs and a pair of chest waders, he spent his visit drinking with disgruntled locals at the King Alfred pub. In response to the crisis, he has called for a Dad's Army-style "new Civil Defence Corps" - in which volunteers gather together to tackle natural disasters. Failing that, Farage thinks we should divert money for foreign aid to the areas affected by floods. One tabloid has already backed his inane argument.
Even Prince Charles pulled on his Hunter wellies and toured Somerset on a wooden throne. His comment? That there was nothing like a "jolly good disaster to get people to start doing something". He added: "The tragedy is that nothing happened for so long."
So far, we have had money, no money, dredging, no dredging, sandbags and a makeshift Home Guard. The government - and token royal - have all dipped their toes into the situation. Alas, they are yet to come up with a solution. Politicians in wellies staring at floods has, so far, been of little use.