A man has died after trying to clear a fallen tree in the midst of hurricane force winds.
The man from Bremhill, a village between Calne and Chippenham, believed to be in his 70s, was killed on Wednesday (12 February) afternoon, after the tree brought down power cables in Wiltshire. It is believed he was electrocuted.
The Met Office have issued "red warnings" for wind in north-west England and Wales and 16 severe flood warnings remain.
The red warnings, meaning there remains a "risk to life," are the first extreme warnings during a long winter of severe weather that has battered the UK.
The last red warning was issued in January 2013, as heavy snow hit Wales. Before that, the most recent red warning had been issued in January 2012, warning of strong winds in Scotland.
After heavy rain fall, strong winds are now battering the UK with the Met Office reporting gusts of 108mph recorded at Aberdaron, North Wales, and gusts of 110mph recorded at sea off the coast of the southern Irish Republic. Winds of 96mph winds were recorded at the Needles, off the Isle of Wight.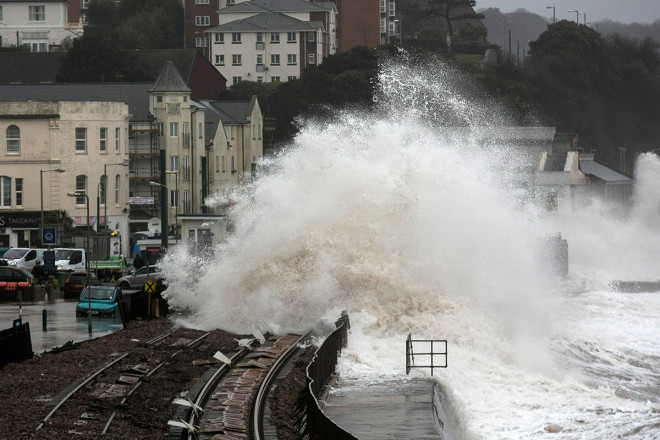 The Met Office said: "Winds of this strength can cause widespread structural damage, bringing down trees and also leading to loss of power supplies."
Electric power cables and trees have been brought down by winds of up to 94mph, blocking roads in Devon and Cornwall.
Residents in many parts of the country have now been warned not to leave their homes.
Thousands of homes have no power and road and rail links have been badly hit. Meanwhile, the severe flood warnings remain for Berkshire, Surrey and Somerset, which have already been hit by flooding, with hundreds of homes evacuated.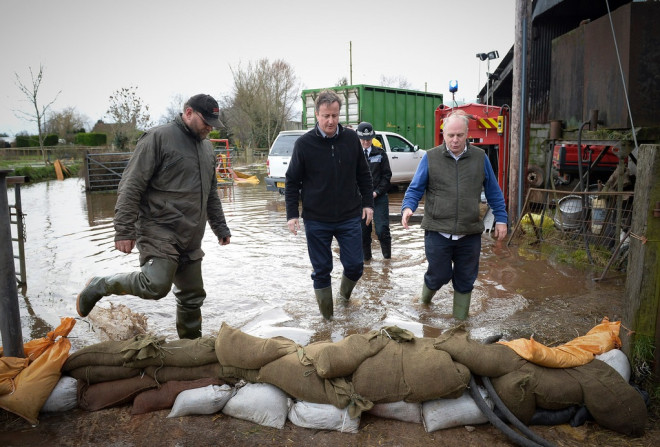 At Crewe railway station around 500 passengers were evacuated and taken to a nearby hotel after roof panels fell onto overhead lines and caused a fire, leaving trains stranded outside the station.
Virgin Trains has advised all passengers not to attempt travel and there are major disruptions for other rail services, with severe delays between Reading and London due to flooding near Maidenhead. Most of Virgin's West Coast Main Line services are suspended.
West Country rail services are severely affected by the severe flooding, while services in Oxfordshire, Hampshire, Sussex, Kent and Surrey are heavily disrupted.
Assistant chief of the defence staff Major General Patrick Sanders, who is coordinating the armed forces response, described the ongoing severe weather as an "almost unparalleled natural crisis".