Knight Frank predicts that Britain's house price surge will slow down in 2015 as average property prices will rise by 3.5%, compared to years of double digit growth spurts.
However, according to the estate agent's forecast for the residential property market in the UK, while the average UK house price will slow over the next year, it is set to rise 18.2% between 2015 and 2019.
London will continue to rocket during the same five year period by 25.8% [Figure 1].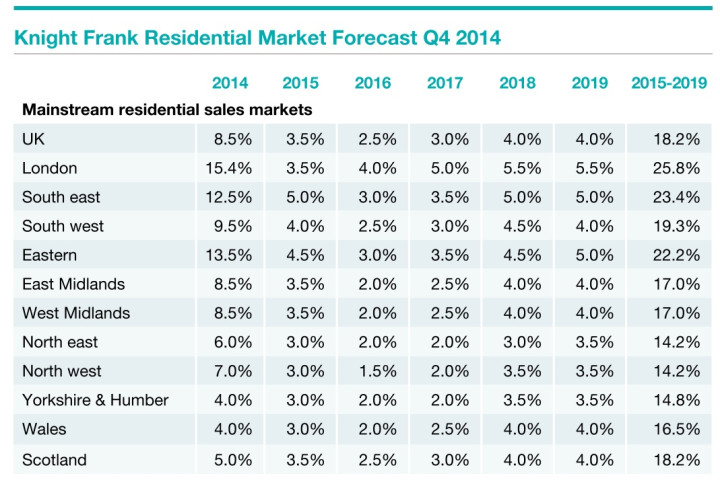 "While we expected London to continue to lead the market, we also expected annual price growth in the UK, which had lagged since 2009, to spike higher," said Liam Bailey, global head of research at Knight Frank, in the report.
"Our forecast that the UK would see 7% growth in 2014 appears so far to be prescient. Our view that Greater London price growth would peak in 2014, again appears likely to be vindicated.
"One area we perhaps underestimated was the continuing momentum of the prime central London market, in particular the growing influence of the UK buyer on the back of improving domestic economic conditions.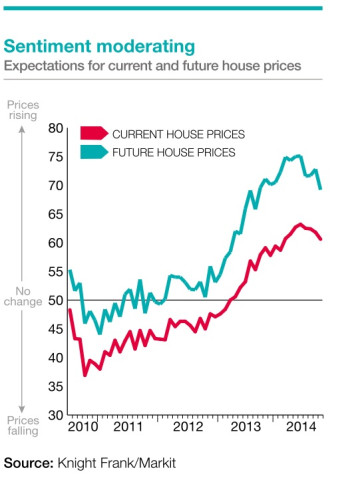 "While we were right to anticipate a slowdown from the levels of growth seen in 2013, end of year growth in 2014 is likely to be closer to 6% rather than the 4% we pencilled in [Figure 2]."
While prices in prime central London will remain unchanged in 2015, Knight Frank predicts that cumulative growth will total 22.1% by end of 2019.
Furthermore, due to the housing shortage, soaring house prices in the capital, further restrictions on mortgage lending, and the impending General Election, UK rents and prime central London rents will rise 2.2% and 3.5% respectively in 2015.
"Whatever the outcome of the election, our view is that growth will be less marked over the next five years than the last five, when prime central London's safe-haven appeal during the financial crisis contributed to a cumulative rise of 61%," said Tom Bill, head of London residential research at Knight Frank, in the report.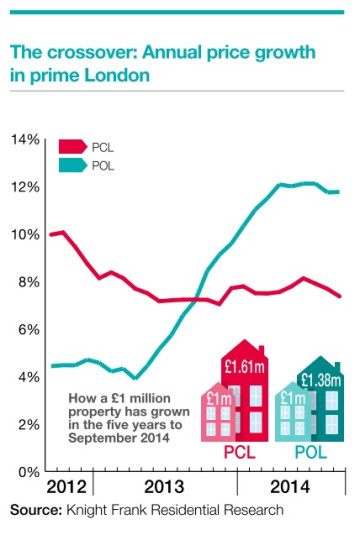 "We forecast 4.5% growth in 2016 with a steady rise towards 6% in 2019, underpinned by the fact demand will continue to exceed supply.
"However, there will be areas of outperformance, which could be particularly marked away from traditional prime markets as demand becomes increasingly focussed on the quality of the property and amenities and not simply the postcode [Figure 3]."
According to the Office for National Statistics' latest data, annual house price increases in England were driven a 19.6% rise in property prices in London.
The average UK house price in August 2014 was at £274,000 (€345,052, $437,283).
This equates to the average property price of £285,000 in England, £172,000 in Wales, £143,000 in Northern Ireland and £200,000 in Scotland.
In August 2014, London continued to be the English region with the highest average house price at £514,000 and the North East had the lowest average house price at £154,000.