British Jihadists are joining al-Qaida-backed Islamist groups to wage war in Iraq.
According to a fellow UK jihadist, one man crossed the border from Syria to Iraq, intending to achieve "martyrdom".
In a posting on his Facebook page, Muhammed Hassan, 19, who was privately educated in Portsmouth, revealed that he had met three other British jihadis while fighting for the Islamist Al-Qaida Islamic State of Iraq and Syria (ISIS).
"One got shot," he writes, "one went to Iraq for attack and got shadah [sic] [martyrdom], insallah [God willing]; one bro is in Halab [Aleppo]. All the Pompey [Portsmouth] lads are together under one roof." The posting was later deleted.
Intelligence officials estimate that approximately 300 Britons have travelled to Syria to fight in the country's civil war, many of them for Islamist groups seeking to oust president Bashar al-Assad and create a caliphate ruled by sharia law.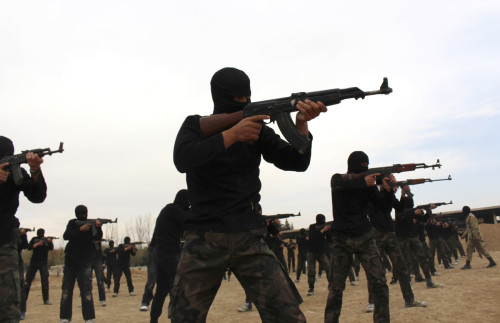 Approximately 50 British-born veterans of the conflict have travelled back to the UK, and intelligence chiefs fear that they may be preparing terrorist attacks here.
Recently, ISIS fighters took control of the Iraqi towns of Fallujah and Ramadi, where hundreds of American troops were killed in a 2005 battle to retake the towns from Islamists.
ISIS is one of a number of Shia militant groups in Iraq that have killed thousands in terrorist attacks as they seek to destabilise the country and topple the government of Sunni president Nuri al-Maliki.
For Raffaello Pantucci of the Royal United Services Institute, the news that UK jihadists had joined the battle in Iraq came as no surprise.
"To ISIS, the border is meaningless," he told the Sunday Times. "They see the area as one large emirate. And launching an attack in one is the same as launching an attack in the other."
Recently, a jihadist with a London accent posted a video on YouTube. Brandishing a pistol with his face covered by a balaclava, he urged viewers to "leave that 'gangster life' behind and join the life of jihad".
Watch the video below: