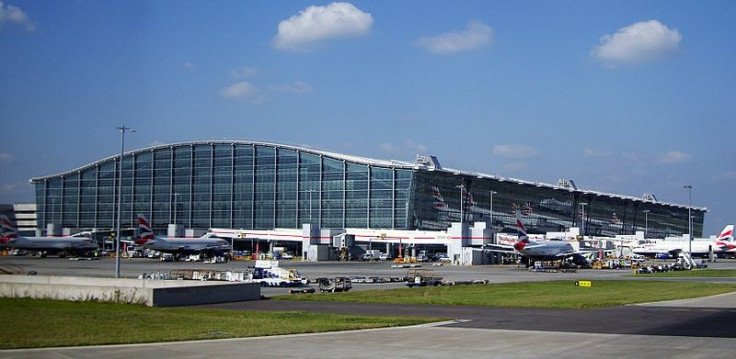 A man has been taken to hospital after stabbing himself in the head at Heathrow airport. He reportedly started inflicting injuries to himself outside a shop near the departure lounge in Terminal 5 at 5.45pm GMT on Wednesday (16 December) in front of travellers.
Witnesses said he stabbed himself in the head outside the Fortnum & Mason store with an object he picked up after passing through passport, security and customs checks. The man was described as being "very distressed", but was not attempting to harm anyone else.
Two cabin crew members disarmed the man before police, paramedics and airport security arrived at the scene Sky News reports. A spokesman for Heathrow said in a statement: "The emergency services attended Heathrow Terminal 5 this evening after a male passenger self-harmed. No other passengers were injured and there was no breach of security. The passenger appears to have picked up the knife in one of the airside departure lounge shops but it would not have been a really sharp object."
A passenger who did not want to be named described the events and recounted people "screaming and running" as he was making his way to gate 19. He said: "I quite quickly saw a Middle Eastern or north African-looking gentleman constantly stabbing the side of his head with a knife and blood all down him.
"People were trying to stop him without getting too close. The chap was muttering words I did not understand and was very distressed. He never tried to attack anyone apart from himself so I don't think it was a terrorist attack. The person sitting in the seat next to me said that the chap took a knife from the seafood restaurant beside the south gates about 20 metres from where I first saw him."
Sitting at Fortnum and Mason Heathrow T5 when a man runs past stabbing himself in the head - security has contained the situation

— Neerav Valiram (@neeravval) December 16, 2015
One Twitter user who reported the scene on social media said they had witnessed a man "constantly stabbing himself in the head with what looked like a knife". Neerav Valiram posted on Twitter: "Sitting at Fortnum and Mason Heathrow T5 when a man runs past stabbing himself in the head - security has contained the situation."
A spokesman for Scotland Yard said: "Police were called to a shop at Heathrow Terminal 5 to a report that a man had injured himself with a knife." He added: "Officers attended along with paramedics and the man was taken to a west London hospital with injuries which were not life-threatening.
"A crime scene is in place while officers investigate. At this early stage no other person is being sought in connection with the incident."