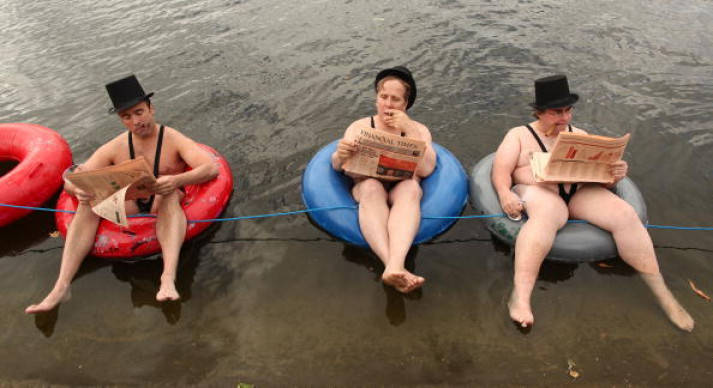 A mankini to the rescue –that's what a Cornish town claims at least.
English seaside resort town Newquay is hailing the town's move to ban mankinis in a bid to deter partygoers from going over board.
According to officials in the town that is reported to be a favourite amongst surfers and partygoers, crime rate has fallen since police cracked down on extreme partygoers donning "inappropriate clothing", like mankinis.
"When you speak to anybody from patrol officers to PCSOs, partners in town, shopkeepers, everybody says Newquay has made a miraculous improvement," said Inspector Dave Meredith, Newquay's most senior policeman, reported Sky News.
"Did Newquay have a problem with its reputation five years ago? Almost certainly it did. People expected to come to Newquay to drink a lot, behave irresponsibly. Certainly we have clamped down on that and the image of Newquay now has certainly curtailed some of that."
The crackdown began when two teenagers reportedly died in 2009 after falling off cliffs due to excessive partying sparking protests by locals calling to bring an end to the binge drinking in the town.
"I remember back in the 2000s you couldn't walk the streets on a Saturday without seeing someone wearing a mankini or what have you. But now they're not allowed in Newquay," said Mayor Dave Sleeman reflecting on how the town used to be several years ago.
"The police will tell them to go home and get changed if they see them wearing one, and the guest houses and camp sites are pretty good at warning their guests about what's acceptable."
Locals are glad the "Wild West" image of the town is finally fading away.
Mankini is a thong-like swimwear designed for men that went famous after Sasha Baron Cohen's Borat character.