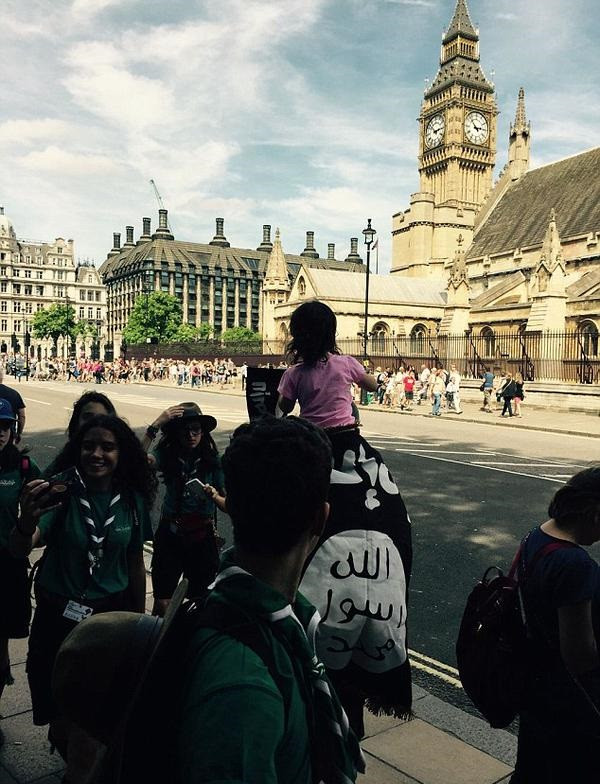 Members of the public turned to Twitter to express their outrage after a man was seen parading past the Houses of Parliament draped in an Islamic State flag carrying a young girl on his shoulders.
The child was seen waving a smaller version of the flag as the pair walked past a group of scouts near Big Ben.
The incident occurred just days before the anniversary of the 7/7 terror attacks.
Police confirmed that they were aware of the man walking through the centre of London brandishing the symbol of the terror group, but did not arrest him as his actions were deemed 'within the law'.
Scotland Yard said officers spoke to the man and considered his actions within the Public Order Act 1986.
A spokesman said: "This man was spoken to by officers with consideration given to relevant legislation and a decision was taken by officers at the time that the man was acting within the law. He was not arrested."
He added: 'Wearing, carrying or displaying of an emblem or flag, by itself, is not an offence unless; the way in which, or the circumstance in which, the emblem is worn, carried or displayed is such as to cause reasonable suspicion that the person is a supporter or member of a proscribed organisation.
'While support of and membership of ISIS is unlawful it is not a criminal offence to advocate the creation of an independent state.'
The Public Order Act states that a person is guilty if he: 'Displays any writing, sign or other visible representation which is threatening, abusive or insulting within the hearing or sight of a person likely to be caused harassment, alarm or distress thereby.'
Social media commentators have described their dismay at the situation.
"'Why are we allowing this to happen on our streets a man walking past big ben with an ISIS flag," said one.
"Walk through London past Big Ben with an ISIS flag nothing done do it with swastika what would be done?" wrote another.
"Man walks round central London with an ISIS flag but wasn't arrested because he broke no laws.Cud only happen here."
"Man & child with Isis flag London....hope this is hoax."
Members of the public reported feeling unsafe and the images have said to have left people panicked as Londoners prepare to mark a decade since the July 7 terror attacks.
The incident comes one week after gunman Seifeddine Rezgui killed 38 tourists, including 30 Britons, on a beach in Sousse, Tunisia.
Earlier this week emergency services staged a two-day mock terrorist attack in London as part of a drill to ensure they are prepared "should the worst happen".
Former Scotland Yard terror chief Peter Clarke has warned that ISIS poses 'a huge and deadly threat'.
"At the moment we are arresting one person for terror-related crimes every day. That's the highest rate at any point in 15 years, apart from the immediate aftermath of 9/11 and 7/7. There are 120 people awaiting trial as we speak.
"Every year since 7/7, massive plots to commit terrorist acts have been thwarted.' He called UK counter-terrorism 'the envy of the world".
Commenting on the police decision to allow a man to raise the Isis flag in London a Home Office spokesman said: 'ISIS is a prescribed group. Showing signs you are a supporter of that group is an offence. It was an operational decision and we cannot comment on individual cases."