Moribund British consumers will not lead the country out of its second recession in four years, according to a report by rating agency Standard & Poor's.
Sticky inflation, dismal wage growth, unemployment, and the eurozone crisis, are all helping to keep consumer confidence depressed, leaving it unlikely that Britons will spend their way to economic recovery.
"A number of trends have eroded the buying power of consumers," said S&P's latest UK Economic Outlook report.
Consumer confidence in the UK is dropping, with leading indicators showing a dampened outlook.
Nationwide's Consumer Confidence Index slipped by three points in May. At 41, it is just four points above its lowest ever reading in October 2011.
Britain has plunged back into recession, reported the Office for National Statistics (ONS), with two consecutive quarterly GDP contractions of -0.3 percent from the end of 2011 to the first three months of the year.
Forecasts for growth across the year have been slashed by the Office for Budget Responsibility (OBS) and Bank of England, both who expect a paltry 0.8 percent expansion.
Ongoing crisis in the eurozone continues to loom like an ominous black cloud over the UK's future economic prospects, as the threat of a single currency area break-up becomes increasingly likely.
Crippled Spanish banks need a €100bn recapitalisation, which still might not be enough, and other eurozone member states edge ever closer to unsustainable borrowing levels.
All this serves to depress confidence from banks to businesses, neither of which are willing to increase lending and spending with such uncertainty hanging over their heads.
Without this business spending on investment and growth, fewer jobs are being created.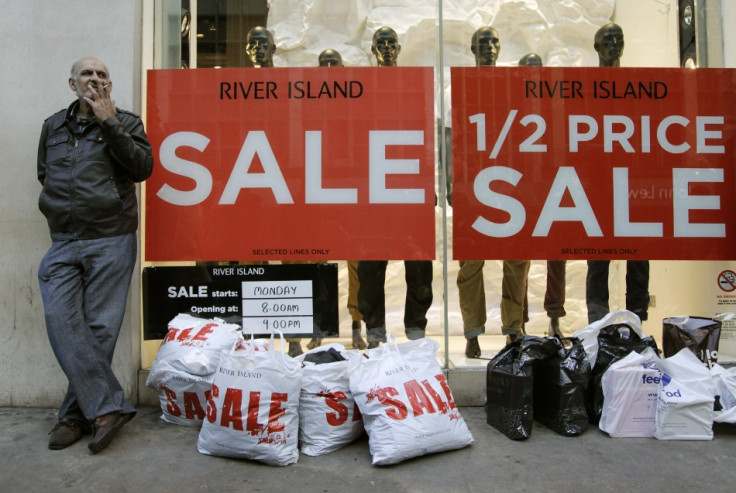 UK unemployment concerns
While unemployment has fallen slightly in recent months, most of the increase in employment has been from self-employed and part-time workers, not safe, secure, and lucrative full-time permanent employment.
The number of people claiming Job Seeker's Allowance rose by 8,100 in May from April, to 1.6m.
Long-term unemployment also rose to 887,000.
According to research by the think tank Institute for Public Policy Research (IPPR) there will be a million people out-of-work for more than a year by the end of 2012.
"Long-term unemployment is the hidden crisis of the slowest ever economic recovery in the UK," Tony Dolphin, IPPR chief economist, said in the report.
Sticky UK inflation erodes wages
Sticky UK inflation has fallen sharply to 2.8 percent in May, down from its peak of 5.2 percent in September 2011, but is still outstripping growth in stagnant wages.
ONS data reveals that in the three months to March total pay, including bonuses, grew by just 1.4 percent on the year before.
In depressing forecasts from the Centre for Economics and Business Research (CEBR), real disposable income will fall by 0.2 percent in 2012, leaving struggling Britons with even less cash to not spend.
"Wage growth is disappointingly anaemic, without much prospect of it picking up in the coming months," said Osman Ismail, main author of the CEBR Consumer Insights report.
"Unemployment is still high, the double-dip recession has dented confidence, and plenty of public sector cuts are still to come."
Household spending to wane
The last set of household spending data from the ONS shows that in the fourth quarter of 2011, expenditure volume grew by 0.4 percent. It was the first positive reading since the second quarter of 2010.
Consumers had abandoned saving, as the Bank of England maintained its record-low 0.5 percent base rate.
S&P's report said Britons had been saving 8.8 percent of their income by the first three months of 2010, as the 2008 financial crisis injected fear into households who started hoarding cash.
"Since then, it has trended downward modestly, as consumers chose to draw on savings to maintain a certain level of spending, and has stabilised at about 6.5 percent in the second half of last year," S&P's report said.
"We believe that in a context of elevated economic uncertainties a fresh rise in the household savings rate is most likely.
"Households will choose to preserve a certain level of precautionary savings especially as unemployment continues to climb."
People will also focus on reducing their debts rather than spending, said S&P, a process that could take as long as five years and a factor that will help keep consumer demand subdued.
Retail sales damp
It only takes a glance at retail sales figures for the UK to see that consumers are not flocking to the High Street to spend their inflation-eroded wages.
While retail sales grew by 1.4 percent in May, month-on-month, this was largely due to warm weather and a consumer boost because of the Queen's Diamond Jubilee.
This rise also failed to off-set a 2.3 percent collapse in April.
"Patience is required for a full recovery of the sector. Until then, more bankruptcies are likely while the languishing economy shakes out vulnerable retailers," Tim Ohlenburg, senior economist at the CEBR, said.
Shop closure figures from the Local Data company revealed a 14.6 percent vacancy rate on UK High Streets - a record high.
PriceWaterhouseCoopers reported that 183 retailers sank into administration in 2011, up from 165 the year before.
Some of the biggest names have hit hard times, like Game, La Senza, Peacocks, and Clinton Cards.
Bank of England's QE and credit easing
With no consumer recovery and the government refusing to use fiscal stimulus as a route out of recession, citing the public purse deficit reduction as its number one priority, the Bank of England has been handed the task of getting the economy moving.
It is set to expand its £325bn quantitative easing programme, likely by a further £50bn, which sees it buy up gilts from the market in order to improve liquidity for big businesses.
The Bank hopes this new found cash will be spent on new jobs and expansion by the businesses shifting their assets for cold cash, but a recent Ernst & Young report suggested that the money was being hoarded - rendering the stimulus useless.
As well as the quantitative easing programme the Bank announced two credit easing schemes which sees it offer billions in low-cost loans to banks as it seeks to absorb lending risks.
This, argues the Bank, will free up affordable lending to consumers and businesses.
However some have raised doubts over if such a large appetite for credit exists.