Empty shops are littering the UK's high streets as consumer confidence dips along with retail sales.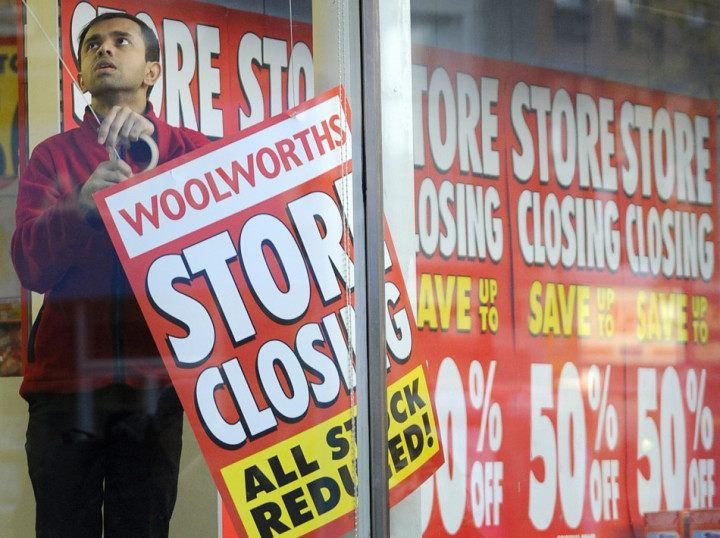 Fresh figures from the Local Data Company show that the UK's shop vacancy rate is at its highest point since the global financial crisis of 2008 as consumers rein-in their spending.
"It is a timely reminder to the government ... of the significant challenges facing town and city centres up and down the country," Matthew Hopkinson, director of LDC, said.
Shop vacancy rates are 14.6 percent for February, up slightly on January's 14.5 percent figure.
As consumers have been hammered by high inflation, rising unemployment, and government austerity measures including welfare cuts, UK retailers have suffered the knock-on effect.
Many have been forced to close their doors as the economy struggles to kick-start.
Retail Sales Figures
Retail sales figures fell 0.8 percent in February, the biggest dip in nine months, as consumers stay away from the high street.
This is double what analysts were predicting.
The figures for January were also revised down, from 0.9 percent growth to just 0.3 percent.
Internet sales, which have been seeing a boost as high street spending falls, dipped in February to 10.7% of all weekly retail sales, from 11.9 in January.
Nationwide's latest Consumer Confidence Index fell from 47 in January to 44 in February.
Success Amid Shops' Struggles
Despite the general gloomy retail market trend there are some success stories to be found.
Kingfisher, which owns home improvement stores including the B&Q chain, posted pre-tax profits of £807m for 2011.
Supermarket giant Sainsbury's saw increased sales in its fourth quarter, of 2.6 percent.
Department store Debenhams also posted an increase of 2.4 percent in its sales for the eight weeks leading up to 3 March.
The Retail Risk Index from BNP Paribas Real Estate showed some UK towns as low-risk for retailers.
Lewisham, Wood Green, Uxbridge, Harrow, Truro, Sutton, Colchester, Inverness, Peterborough, and Southport are all highlighted as being the most healthy towns for the retail industry, reflecting that despite the downturn in consumer spending and confidence there are still some fairly safe retail havens in the country.