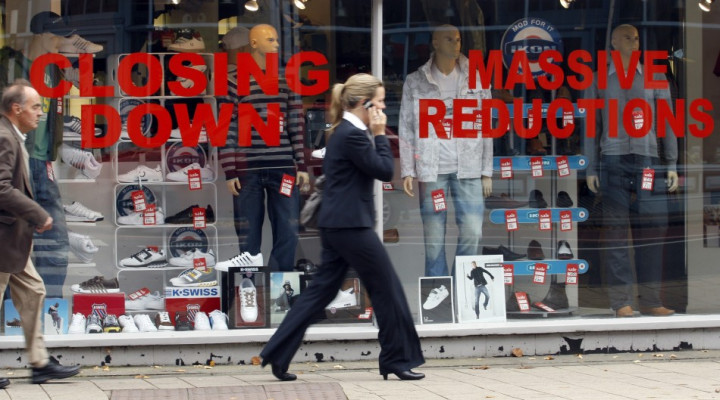 There's an abundance of teary eulogising as some of country's favourite high street brands die like the family's much-loved elderly dog.
But with every industry death comes the potential for re-birth.
When a puppy bounds in and playfully gnaws at your socks, your old, dead dog becomes another forgotten carcass in the pet graveyard that is your back garden.
The same goes for the high street.
There Goes the Neighborhood
While the physical stores may be dying a death, a new emergent digital class of retailer is there to fill the void.
The Centre for Retail Research (CRR) predicts that by 2018, a fifth of all high street stores will have closed - 60,000 shops in all. Online retailing's advance is gathering pace.
Research by IMRG Capgemini forecasts the amount British consumers spend online will rise by 12% on the year in 2013, to a value of £87bn ($131.4bn, €101.6bn).
This is not an unknown trend.
Consumer spending is depressed because of the dire economic climate and that is weighing down heavily on retailers.
However, the vacating of the high street is merely market evolution, rather than the passing of an entire industry.
A lame economy is speeding that inevitable process up by killing off the weak. Those failing to adapt, still lumbering around the unwieldy overheads of running physical stores, will surely meet their demise.
Yet, there is still one question surrounding the uncertainty of the physical high street's future - what, if anything, will replace it once it's gone?
Public Services To Revolutionise the High Street
One view is that it should become a hub for local public services, such as dentistry, that were forced away from the high street and into the suburbs by high rental costs, driven up by the demand from retailers such as clothing stores.
Clustering in high streets would mean all the services individuals need but cannot access digitally - such as the doctors, dentists, hairdressers, and more - are closer to transport links.
It would also mean people can make one trip to one place and access all of the services they need in one day, rather than having to travel across town to different areas for different needs.
"Empty shops should be turned into homes, service, entertainment and leisure outlets, offices, surgeries, and other facilities for which there may be local demand," said Professor Joshua Bamfield, director of the CRR.
This is a view shared by Ocado chief executive Tim Steiner, whose online grocery store is breaking new ground in the market.
"My family came from the hair and beauty business. They were the world's largest spa operator. In the late 80s they were largely pushed off the high street because the clothing retailers were paying so much for stores that you couldn't afford to run a hairdressing salon on a high street anymore," said Steiner at a recent British Retail Consortium (BRC) event.
"I think there's a lot of opportunity for local services that need to be distributed locally. Whether they're doctors, dentists, hairdressers, spas, cafes, there's a lot of local services and things that people will use I think need to go back on to the high street and out of where some of these places ended up in residential property.
"Why have a dentist in a residential property that's nowhere close to a tube station, when you could have it on a high street? That's because they couldn't afford the high street because Topman was paying too much rent. That's going to change."
This is going to become an increasingly pressing question for town planners. What sort of new high street do they want to mold? How can they encourage certain services and businesses to set up - or return - there?
Until local authorities work out a plan, we'll have to put up with pound shops plugging the gap.