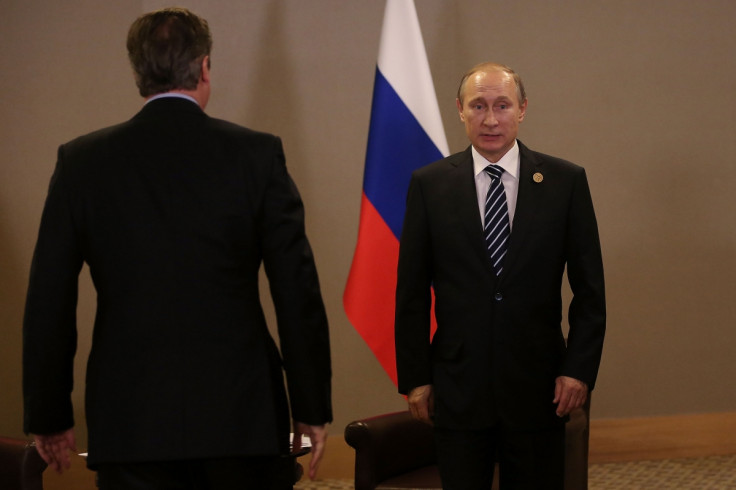 The British and Russian governments are still split over the issue of who to attack in Syria in the wake of Islamic State (Isis) linked assaults on Paris, David Cameron has revealed. The UK prime minister, speaking at a G20 summit in Turkey, said he opposed President Vladimir Putin's decision to launch strikes on "moderate rebels".
But the Conservative leader claimed there are "some signs" that Russian forces are focusing more on Isis personnel and equipment as the country's brutal war continues.
"We think that bombing the moderate opposition, people like the Free Syrian Army who should play a part in the future of Syria, is a mistake," Cameron argued. "I made that view absolutely clear to President Putin as I have done in the past."
The comments come after 10 French aircraft, operating out of the UAE and Jordan, dropped 20 bombs on the Isis stronghold of Raqqa on 15 November in the wake of the terrorist attacks in Paris which left at least 129 people dead.
Russia intervened in the Syrian civil war with air strikes on 30 September and has maintained its presence in the Middle Eastern state, particularly after Isis was linked to the downing of a Russian airliner leaving Egypt on 31 October. Putin has come under criticism from the West for supporting President Bashar al-Assad and targeting the Free Syrian Army.
"The horrific attacks on Paris on Friday night... underline the threat we all face – the threat to our values and our way of life," Cameron said. "We have agreed to take further important steps to cut off the financing that terrorists rely on, to counter the extremist ideology and the terrorists' propaganda, and to better protect ourselves from the threat from foreign fighters by sharing intelligence and stopping them from travelling."
The prime minister added: "On Syria, it's vital that we do more for those in humanitarian need, that we find a political solution to this conflict and that we degrade and destroy Isis. Britain is already the second largest contributor to the humanitarian crisis, providing £1.1bn ($1.6bn) in vital life-saving assistance."
Cameron also stressed that a "political solution" was needed to bring peace to Syria and admitted there was disagreement between the UK and Russia on Assad's future. The comments come after the prime minister revealed that Britain's intelligence and security forces thwarted seven planned terrorist attacks on the UK over the past six months.
The UK government has also promised to give Mi5, Mi6 and GCHQ funding to boost the spy agencies' numbers by 15%, putting the combined workforce at around 15,000 people.