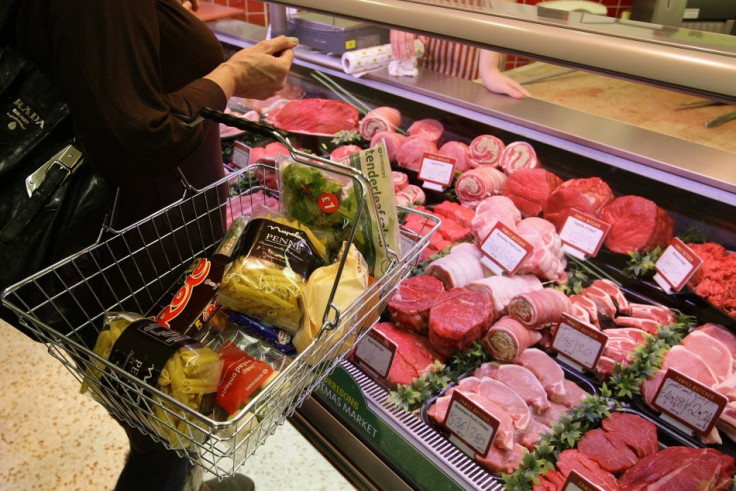 Food price inflation slowed sharply in May, producing a deflationary headline reading on the British Retail Consortium/Nielsen Shop Price Index for the first time in more than three and a half years.
Promotions and discounting by retailers helped pull prices down, as stores tried to coax in cash-conscious consumers who have been squeezed by a real terms income cuts and economic slowdown.
The BRC said food prices rose by 2.4% in May, seasonally adjusted, up from April's 2.9% reading. Non-food prices declined by 1.5% as deflation accelerated from 1% the month before. Non-food price deflation is now at lowest rate since June 2009, when the drop was 1.9%.
BRC's headline Shop Price Index reading nudged down by 0.1%, the first deflation reading since September 2009.
Deflation is when a reduction in the supply of money or credit, as well as a decrease in government, personal or investment spending, leads to a general decline in prices.
It is one of the most severe detriments to hit any economy as it could possibly lead to a depression, as it has the side effect of increased unemployment, while also catalysing falling profits and shrinking income.
Because of this push by shops, the BRC said retail sales lifted by 1.8% in May following a painful 2.2% decline in April.
"With a squeeze on real incomes continuing in 2013, falling shop prices will be welcomed by cash-strapped shoppers," said Mike Watkins, head of retailer and business insight at research firm Nielsen.
"However, with levels of recent consumer spend also being impacted by the weather, there continues to be a dependency by many retailers to use vouchers or coupons to drive footfall.
"Nevertheless, with food inflation slowing as we finally start summer, the outlook for the next three months is looking much brighter."
Official figures put price inflation at 2.4%. Wages have plunged in real terms to similar levels as a decade ago. In February, real pay grew by just 1% - the slowest rate of increase since official records began in 2001.
Many consumers are choosing to save rather than spend, or to pay down existing debts for fear of a sudden worsening of the precarious economy.