A second person has been killed in the extreme weather which has struck the UK after a man got hit by a falling tree in Nottinghamshire.
Police were called to reports of a man being hit by a falling tree in Redford. The man was hit as he was driving his mobility scooter through a park.
An ambulance was called but he was was pronounced dead at the scene. The park has been closed to the public.
A spokesperson from Bassetlaw District Council said: "We apologise for this inconvenience, however the safety of the public is of paramount importance and we would ask all residents to avoid these areas."
The victim, who has not been named, was the second person killed in storms which have swept across much of the UK. A lorry driver died when his vehicle was blown on to two cars in Bathgate, West Lothian.
Four other people were injured when the lorry overturned on the A801. All four were treated for minor injuries. The accident occurred as parts of Scotland recorded gusts of up to 140mph in places, which has caused huge travel disruptions and closure on many train lines and roads.
Eastern England was told to prepare for the "worst tidal surge in 60 years" as sea levels are expected to rise from Northumberland all the way down to the Thames Estuary and Kent.
Thousands of people have already been evacuated from their homes in Great Yarmouth. Lifeboats carried people to safety from flooded properties in Rhyl, Denbighshire.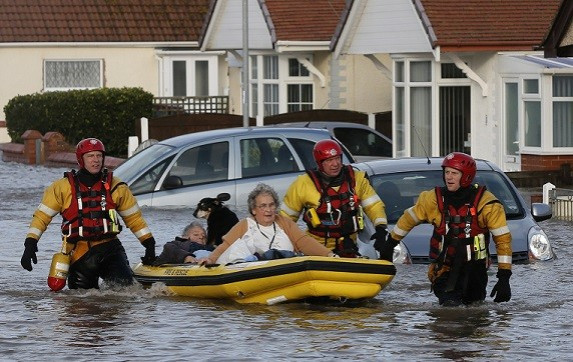 Norfolk Police warned the public to expect 36 hours of disruption.
Deputy Chief Const Charlie Hall, who is leading the region's multi-agency response, said: "This is a significant policing operation underlined by the number of people and properties affected over the next two days.
"We understand people may be anxious, but we would like to reassure residents that Norfolk has tried and tested flood response plans which are being put in place, in line with Environment Agency advice.
"Such disruptions are entirely necessary to ensure the safety of everyone involved and for the evacuation to be conducted in a planned and organised manner."
Humberside Police have advised people living in Grimsby and Cleethorpes close to the River Humber to consider evacuating their homes.
Suffolk's coastal towns have also been preparing for potential flooding.
Tina Morley, of Suffolk Coastal Services, said: "We are advising people not to use any of Suffolk Coastal's sea or riverfront car parks overnight."
The Environment Agency has more than 40 severe flood alerts - meaning a potential loss of life - and a further 125 flood alerts, meaning people should be prepared for flooding, in place across the UK.
READ:
UK Tidal Surge Pathway: When and Where North Sea Flooding Will Hit East Coast
'Worst Tidal Surge in 60 Years' Feared as Great Yarmouth Evacuates [SURGE MAP]
UK Storm Surge Threat Recalls Britain's Worst 20th Century Natural Disaster
Scotland Weather Warning: Lorry Driver Killed in 140mph Winds
UK Weather Warning: 140mph Winds Cause Travel Chaos Across Scotland
UK Weather Warnings: Gale Force Winds and Flooding Expected in 'Worst Weather for Decades'