Coastal areas in eastern parts of the UK have been warned to prepare for the worst tidal surge in 60 years as gale force winds batter parts of Britain.
The Environment Agency has issued more than 25 severe flood warnings - meaning there is a potential for loss of life - with east Anglia likely to be the most affected.
There are also severe warnings issued in Wales and the southeast on England with more than 150 warnings - meaning flooding is expected and residents should take care - issued across the UK.
The agency warns that communities in Northumberland down to the Thames Estuary and Kent are likely to experience flooding today and tomorrow, with the coastline from Wells-next-the-Sea in Norfolk to Clacton, Essex, including Great Yarmouth and Lowestoft, warned as areas which are particularly at risk.
About 9,000 homes around the seaside town of Great Yarmouth are at risk with the Environment Agency saying high tides later today look set to be worse than those of 2007, and possibly worse than the devestating floods of 1953.
Norfolk police said residents in coastal areas likely to be affected will start to be visited within the next few hours to be given information on evacuation plans. Rest centres were being prepared.
It is likely to be a 36-48 hour evacuation which covers three anticipated high tides.
The start of the tidal surge is expected to hit today (Thursday 5 December) and continue through till around midday on Friday.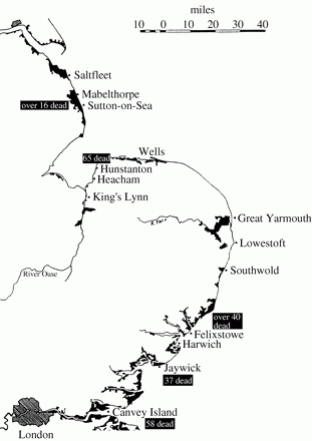 John Curtin, the Environment Agency's Head of Incident Management, said: "Flooding of coastal communities along the eastern and north west coasts is expected today and into Friday. Some defences could be overtopped by the combined effect of high tides, high winds and a large tidal surge.
"People are being urged to check the Environment Agency website or follow @EnvAgency and #floodaware on Twitter for the latest flood outlook, and to sign up to receive free flood warnings. (Agency's live map available here)
"The Environment Agency continues to monitoring the situation closely, working alongside partners including the emergency services, Met Office and local authorities. Our teams have been out in force checking that flood defences and barriers are in good working order, monitoring sea levels and issuing flood warnings.
"Coastal paths and promenades will be highly dangerous as there is an increased risk of people being swept out to sea."
Police in Essex are advising people on Tendring coastline near Clacton-on-Sea to evacuate their properties, with planning already begun to safely to safely remove the residents of the coastal village of Jaywick from their homes.
Essex Police chief insp Richard Phillibrown said: "We are urging residents not to panic and to please react to directions given to them by the emergency services. We would like to reassure the public that we have activated our contingency plans and are experienced in dealing with large scale operations."
It is feared sea levels could be as high as those during the devastating floods of 1953. However, the Enviroemnt Agency has reassured that flood defences built since then - including the Thames and Hull Barriers - mean that many parts of the country are much better protected than 60 years ago.
Curtin is still warning people to take care while on the coats. He said: "Impacts could include flooding affecting some coastal properties and communities. People are warned to stay away from the shoreline."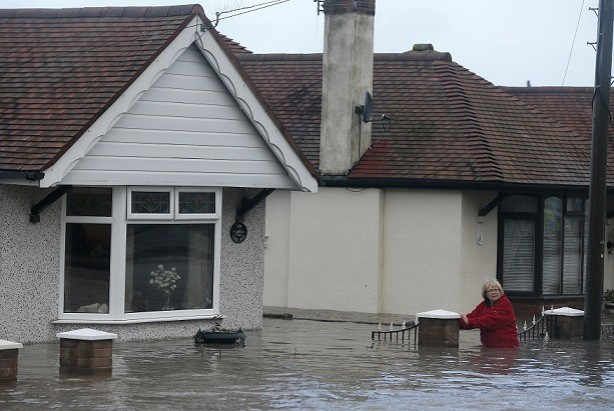 Read: UK Tidal Surge: East Coast Braced for More Floods as Thousands Forced to Evacuate
Read:140mph Winds Cause Travel Chaos Across Scotland
Read: Lorry Driver Killed in Scottish 140mph Winds