An 18-month-old boy from Stourport-on-Severn, Worcestershire, has lost an eye after a consumer drone that did not have propeller guards hit him in an accident. The drone was being flown 60ft in the air by family friend Simon Evans when it hit a tree and spun out of control, slicing Oscar Webb's right eyeball in half.
This is the first reported incident of a human sustaining a severe injury from a consumer drone since unmanned aerial vehicles (UAV) entered the consumer domain in 2013.
Webb will need to have several operations before he can be fitted for a prosthetic eye, and his family contacted BBC1 consumer programme Watchdog after seeing a segment about drone safety to stress how shocked they are that the devices are still considered by many to be toys, while small versions are freely sold in toy shops.
Although he has been forgiven by the Webb family for the tragic incident, Evans has sworn off flying drones again, telling the BBC that he now feels "physically sick" whenever he sees his drone in the garage.
Pilot was flying a racing drone

Evans was not flying a regular consumer drone that has propeller guards, such as one made by DJI or 3D Robotics – it was an FPV 250 racing drone, which looks just as small as a toy drone and weighs less than 4kg, but is actually a specialist hobby drone that has to be bought as a kit and put together.
They are used by hobbyists in races and were never designed to be flown anywhere near people, and the UK Civil Aviation Authority (CAA) has released guidelines specifically warning people not to fly UAVs near people, buildings or airports.
"It is safe to use drones, it's just about sticking to a handful of simple rules. I think there's a problem with not enough education about dangers and training associated with drones. A fork or a pair of scissors could be dangerous, so we are educated as children not to stab forks into people's faces or be careful how you hold a pair of scissors so you don't stab yourself with it," Paul Rigby, CEO of ConsortiQ and EU regulations spokesperson for the ARPAS-UK drone industry body, told IBTimes UK.
"Having protection around the blades is a very simple solution – we shouldn't just ban people from flying drones. There's nothing to stop me from going to B&Q and buying a chainsaw, but I need to be careful not to chop my legs off with it. We need to say, this is a dangerous piece of technology, like a chainsaw, so when you open the box, it says, this is essentially a flying blender, don't fly it near people."
It's people, not drones, that are the problem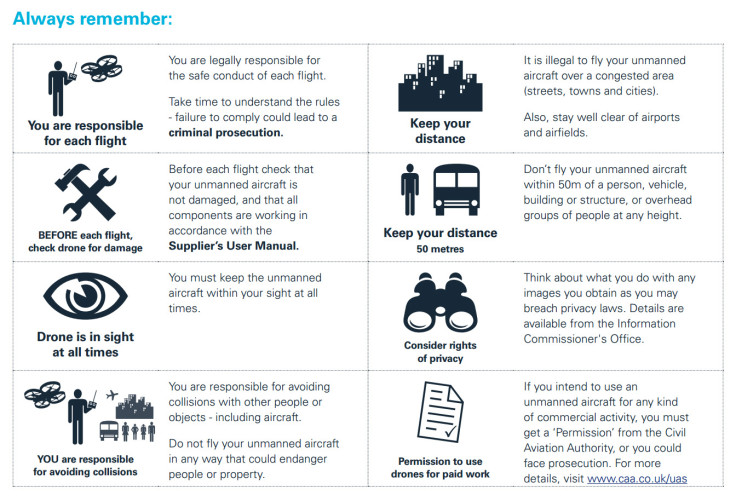 There are rumours that the UK government is keen to explore mandatory licencing and registration for all drone operators. However, the European Aviation Safety Agency is considering deregulating UAVs that weigh below 4kg, which would mean these drones would be classed essentially as toys so no licence would be needed.
Rigby is also a director on UAV-Air, a CAA-approved training school that offers three-day courses to prepare commercial drone operators and make sure they handle UAVs safely. However, these people are not the problem.
He said: "At the moment we only train commercial people. In the future we're looking at how to train recreational users as they don't want to pay for training, but they're probably the people who need it the most, to protect the commercial industry."