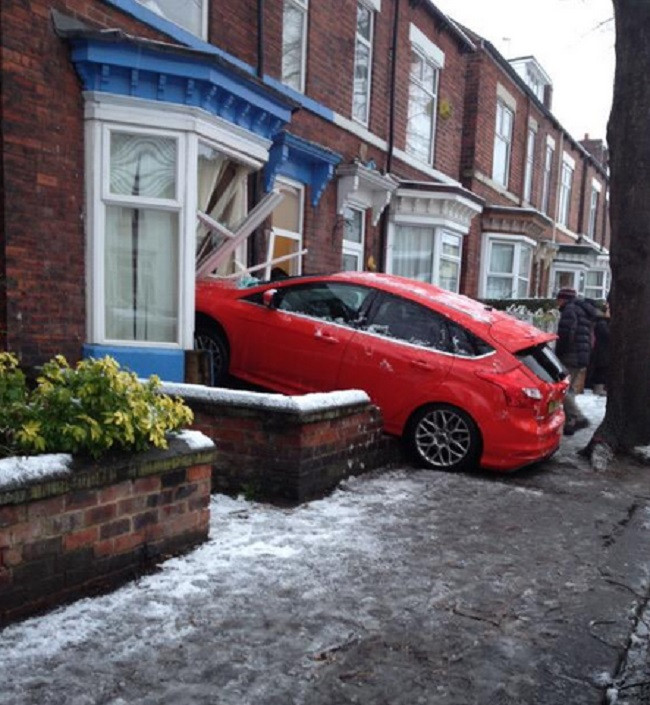 Today's treacherous snowy conditions caused a car to veer off a suburban road and smash into a home in Sheffield.
The red Ford Focus ST went crashing through the front windows of a terraced property in Argyle Road after losing control as it came down a steep T-junction opposite the house.
The picture of the devastating crash was uploaded by Twitter user Venture Residential.
Luckily no one was hurt in the accident.
Resident Salmah, 23, told the Sheffield's local The Star: "I was getting my daughter ready for school, and I was sat here when all of a sudden I heard a very, very loud noise.
"I thought in the back of my mind it must be a car crashing into the house but as soon as I got outside I just started screaming."
The snowy conditions overnight brought chaos to rail and road commuters this morning (21 January).
Leeds Bradford Airport was closed until 11am while crews cleared the runways following two heavy snowfalls leaving passengers facing delays to journeys.
There are current delays of up to 50 minutes on the M25 anti-clockwise between junctions Junction 15 and Junction 10, caused by congestion due to earlier an incident that has closed two lanes.
Meanwhile, forecasters are predicting more snow and icy conditions are on their way.
The Met Office has kept in place yellow warnings for ice and snow for north-west England, Yorkshire and the Midlands.
Leon Brown, meteorologist from the Weather Channel UK, said: "A lot of mist and fog developing tonight, and very icy conditions developing too as temperatures dip back to near freezing and a little below. But Thursday should be a dry day, but quite cloudy and misty in the morning."